---
Midway through Paris Fashion Week, respected critic Sarah Mower, writing for Vogue Runway, declared the fall/winter 2017 collections a "greatcoat season", and indeed, from those opening shows in London earlier this month, the coat has proved itself to be an unassailable presence (and unifying force) in the disparate landscape of contemporary fashion. We take a look at some of the standouts from the season ahead.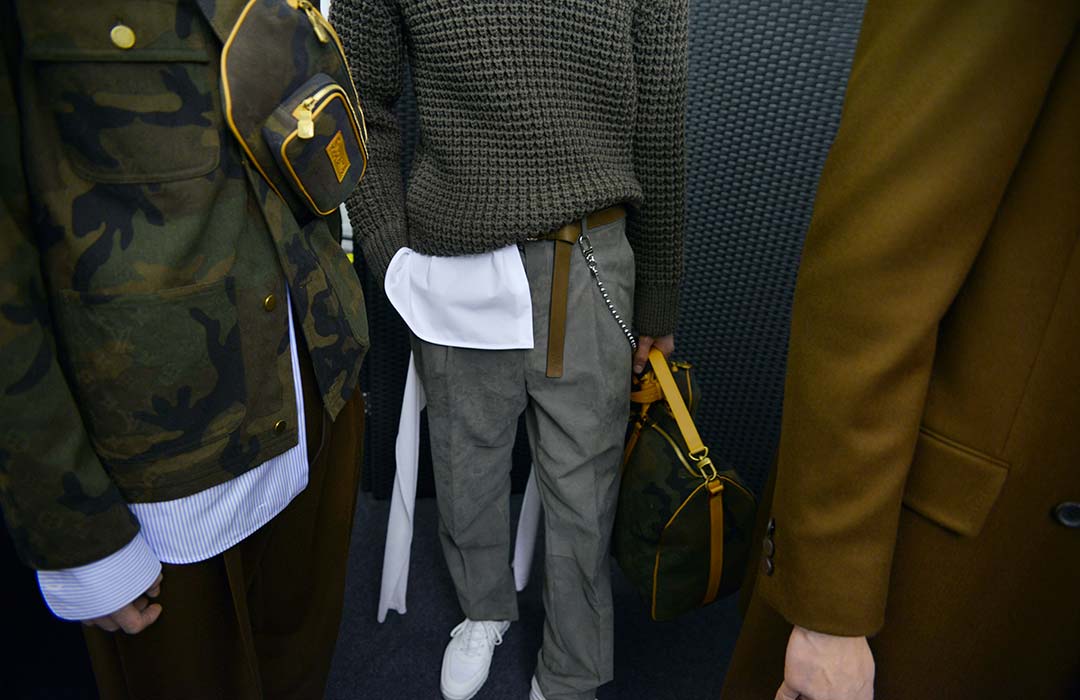 Wool-rich looks from the fall/winter 2017 collection of Louis Vuitton
In what was widely anticipated, Louis Vuitton unveiled the fruits of its collaborative labour with cult American streetwear brand Supreme for fall/winter 2017. Incredibly, the storied French house issued Supreme a cease and desist letter, the result of its line of Louis Vuitton logo-inspired wares. But fashion is nothing if ironic, and artistic director Kim Jones welcomed the addition of Supreme's iconic red and white logo on luxury leather accessories, such as iPhone cases, "Epi" bags and overnight carryalls. But beyond the hype surrounding the well-executed collaboration, Jones presented one of his most covetable collections for Louis Vuitton to date. Inspired, like the collaboration, of the uptown-downtown nature of New York (specifically through the 70s and 80s, when artists like Keith Haring and Andy Warhol bridged those two opposing worlds), Jones brought a youthful energy to the most elegant and beautifully made menswear garments, such as slouchy suits cut from wool-cashmere-blend rust-coloured suits, elongated chunky waffle knit sweaters, baggy paper-bag-waist trousers in lightweight wool, and ribbed wool and shearling sweaters.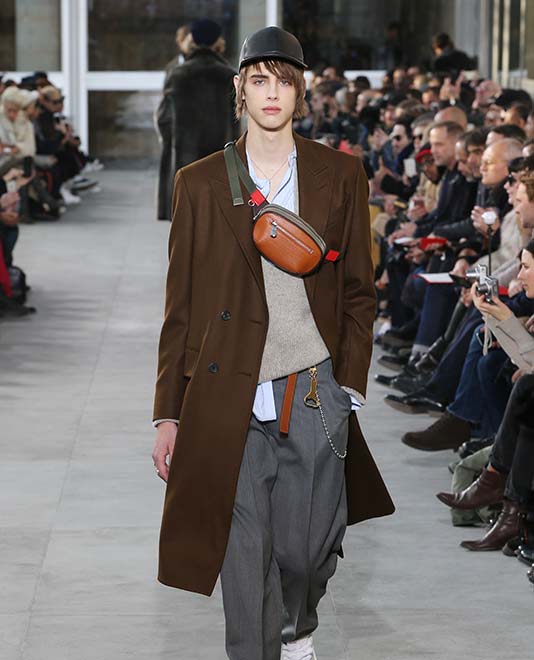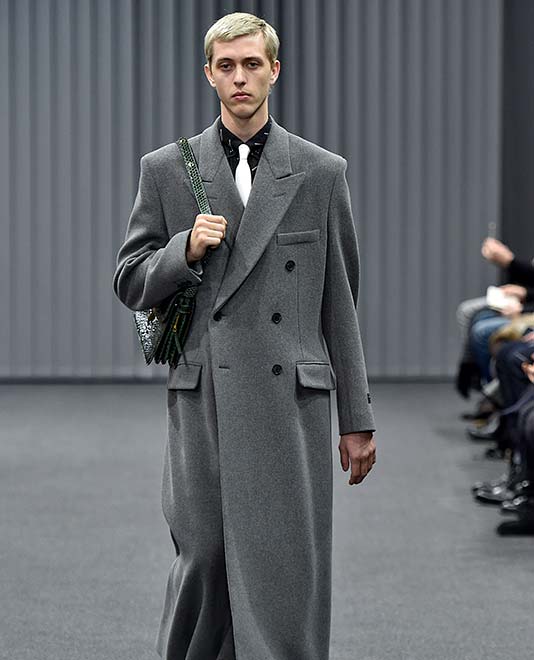 Wool-rich looks from the fall/winter 2017 collection of Louis Vuitton. & Wool-rich looks from the fall/winter 2017 collection of Balenciaga.
Balenciaga, too, is a historic French house reinventing itself for a new generation, with creative director Demna Gvasalia taking sports- and street-wear codes and applying them to traditional tailoring. The resultant aesthetic is one that appeals to a broad audience, and in the case of the fall/winter 2017 menswear collection, fused the powerful Wall Street aesthetic of 1980s suiting with the off-duty version. It is, said Gvasalia, "a guy who goes into his office on a Sunday." In reality, that translated to ankle-length wool coats defined by a structured shoulder and sculptural curvature around the hips, a nod to the house's founder, Cristobal, and his famed cocoon silhouette; oversized double-breasted wool suits; and a series of quilted, cropped bomber jackets emblazoned with a reinterpretation of the Balenciaga logo in a strikingly similar form to that of former Democratic hopeful Bernie Sanders' campaign.
But these two iconic stalwarts of the French fashion calendar weren't the only two to present standout collections – and coats – this season, with independent designers and more emerging names showcasing innovative takes on that most classic of items, too. Belgian designer Dries Van Noten opened his show with a khaki worsted wool coat that, tapping into the trend for playing with proportions, hung loose from the shoulders, comprised oversized lapels, and tapered in at the knee-length hem, and it set the mood for a collection that riffed on the much-loved designer's hallmarks. Included were double-breasted pinstripe wool suiting finished with black crystals, bejewelled and silk-embroidered bomber jackets and wool overcoats, contrast linings on many of the pieces, and a series of knitted sweaters in various checks and patterns.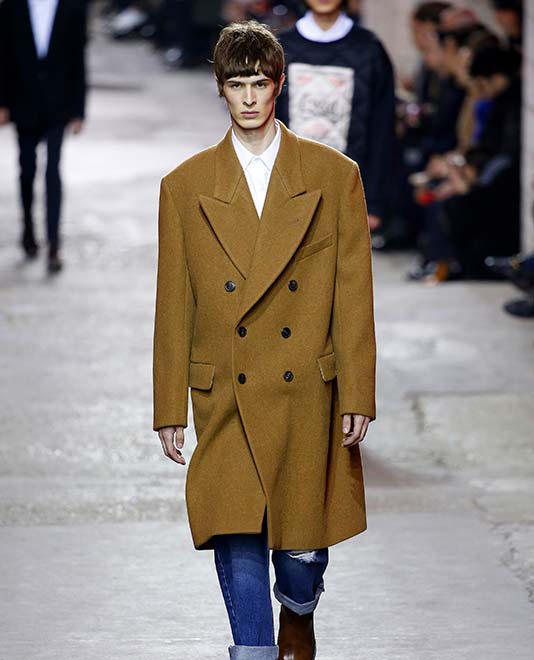 Wool-rich looks from the fall/winter 2017 collection of Dries Van Noten. & Wool-rich looks from the fall/winter 2017 collection of Off White.
Like Dries Van Noten, the aesthetic of Italian luxury house Valentino is one of binaries, with designer Pierpaolo Piccioli offering real, unaffected menswear garments (collections are typically built around a core of suits, outerwear and shirting, along with accessories such as sneakers and backpacks) with flourishes of romance, such as butterfly prints and beaded embroidery. For his latest offering, Piccioli worked with Jamie Reid (best known for his work with the Sex Pistols) on prints, and the effect (black and white text intarsia on military wool coats and knitted sweaters) was masterful, adding an element of punk to otherwise conservative pieces. This was furthered by the addition of Teddy Boy bow ties, suede sneakers and leather caps.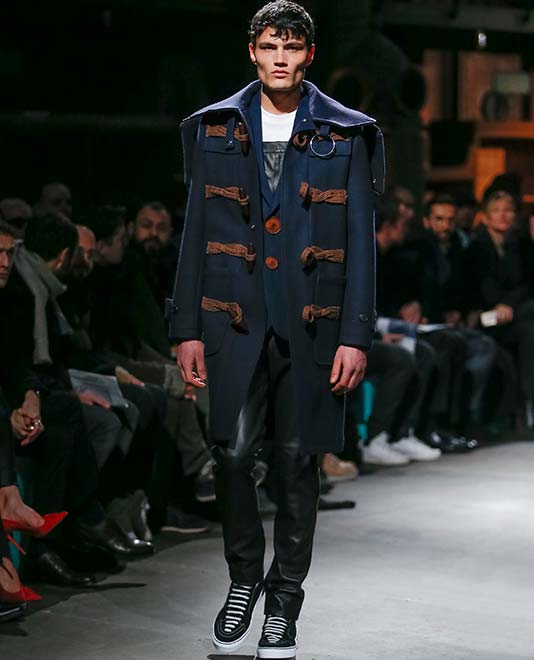 A wool-rich look from the fall/winter 2017 collection of Givenchy.
While denim still very much formed the core of Virgil Abloh's Off-White collection, it was in a tight race with an expansive range of outerwear, demonstrating the evolution of the creative consultant's own label. Here, textured and plaid wool coats were adorned with gold leaves (created by jeweller Duffy), while others (such as a rich black double-breasted number) were so expertly cut (slightly in at the waist, and with a high collar) as to be direct from Savile Row. Juun.J is able to bridge that youth-luxury gap, too, with expertly-cut wool overcoats (a highlight being a midnight blue double-breasted iteration that, with peaked lapels, swept almost to the floor in length) over the top of a pair of leather sweatpants and hoodie. That was also the case at Givenchy, where over the course of years artistic director Riccardo Tisci has injected streetwear codes (Rottweiler-emblazoned hoodies, for example) into one of France's greatest luxury houses, and in a positively upbeat collection this week, he showed rich wool duffel coats with collars that transformed into rain flaps and featuring intricate rope detailing.