---
What is Japanese fashion? Looked at from overseas, it is sometimes "cute" or "high tech". The moment when flashy, individualistic street fashion became the topic of the day is still fresh in my memory.
For the last few years, though, the trends among young Japanese people here have been "normcore" and non-gender-specific. With "effortless" as the keyword, mainstream fashion has focused on plain clothing that is simple. minimalistic and, through its size and colour, refrains from suggesting the wearer's gender.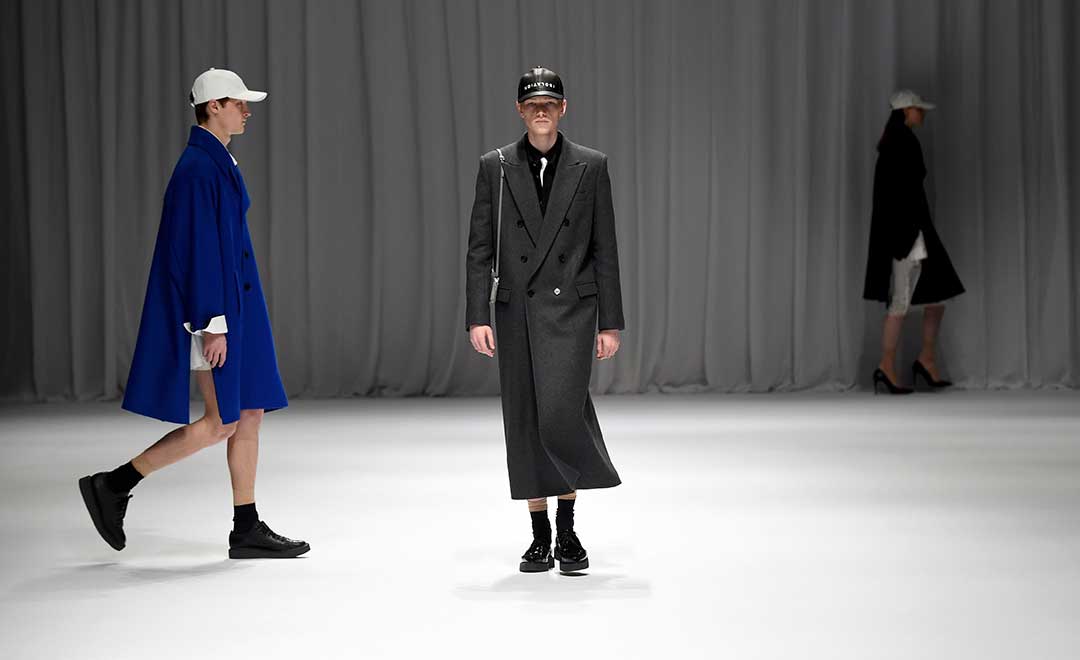 A look by DressedUndressed. Top: A double-faced wool coat by Ujoh at Amazon Fashion Week Tokyo.
Amazon Fashion Week's fall/winter 2017 season was held in the midst of these current trends. Though continuing the concept of simplicity, the collections stood out as lending an aura of a new "Tokyo-esque". Several layered styles appeared in which skirts were worn over trousers or trousers were worn over other trousers. This season's layered clothing drew directly from existing casual styles with a feel of the street and had an elegant yet chic feel. In monochrome greys, beiges, and browns or layered with similar colours, the coats and skirts in soft materials fluttered as the wearer walked. Rather than emphasising the lines of the body, the clothing gave the impression of sensuality through the movements of the layered fabric. This Tokyo-style elegance feels particularly fresh.


HYKE developed this collection without establishing a seasonal theme, instead reconstructing old clothing and combining different styles, such as riding jackets, flight jackets and outdoor clothing. Hyke's version of these garments were uniform in colour: beige, grey, black, khaki and white. A layered style was prominent with skirts worn over trousers, leg warmers atop suits, and arm warmers paired with knit sweaters. Wool shown in multiple variations, such as cashmere-blended wool suits, ponchos crafted with double-sided wool melton, and wool flannel jackets of dense, hard wool melton fabric.


A popular brand aimed at a more mature female customer, this season's collection from House_Commune considered "elegance" as an extension of the lifestyles of city women. The menswear-like items represented a woman who is strong and robust. However, the maxi-length trench coat is slit up the sides and the accompanying grey belt emphasises a narrow waist for the historically feminine silhouette. The colour palette takes House_Commune's staple colours of navy blue, dark grey, burgundy, and caramel and adds accents of pink and red. Fabrics make lavish use of high-quality Japanese-made double-woven wool and other natural materials while also adding items in viscose, light-weight nylon, and other sporty materials with consideration for comfort and functionality.

A lovely layered style expressed the "after image" arising from a dislocation in time at the Ethosens show. A traditional tailored style served as a base for a well-dressed look revolving around jackets and coats. The jackets are designed with several parts piled up into numerous strata, with the shirts also built of two layers with buttons arranged diagonally, and the cuffs of the trousers also layered. This collection stood out with elegant styling for the male models through black chokers or scarves draped over necks and with belts cinched tightly over top jackets and coats for a distinctive waistline.

Once a ballet dancer, designer Chika Kisada brings a unique background to fashion. For this collection, she collaborated with ballet dancers to create a series of special piece dresses made by the same tailors who create dancers' costumes and headdresses for the stage. The blending of wool with polyester and wool with mohair or nylon made for a distinctive softness. Even amidst the sweetness of the design, however, there was a hint of punkish elements that imbued this collection with depth.

In contrast with this season's mainstay trend of chic and elegant looks, doublet's intense idiosyncrasy stood out. The theme for this debut show was "Legal Minor". Models resurrected the atmosphere of a nineties rave by appearing in hair and makeup that suggested the sweat-drenched, disheveled look of having danced the night away. Most of the models, who varied in age, ethnicity, body type and gender were plucked directly from the street, and among them were unique characters such as bodybuilders and drag queens. The designs were punchy, with styles such as oversized slacks hanging from t-shirts, trousers missing a leg, and t-shirts and sweatshirts with logos parodying famous brand emblems well known by the audience. Wool knitwear was emblazoned with "KNIT", undergarments were labeled with the word "UNDERWEAR", and (purposely) shrunken wool sweaters were ironically inscribed with "XXL SIZE which has shrunk by tumble dry", and other playful motifs that stood out as a one of the most talked-about collections of the week.
The designers behind popular Japanese label DressedUndressed tend to work and rework classics, finding new ways of imbuing them with a fresh point of view. For fall/winter 2017, they sought to thwart the traditional proportions of tailored garments, much in line with the trend popular more broadly around the globe. This included heavy wool overcoats that were cut square from the shoulders, slim-leg wool suits, and double-layered shirts that splayed open from the neck.

Ujoh, too, looked at ways of reworking everyday garments, though landed with an altogether different style that felt innovative yet wearable. This included knitted wool turtleneck sweaters that were split up the side, checked wool suits that buttoned down the legs of the trousers, and double-faced wool coats that, with slices through sleeve, allowed the contrasting shirt beneath to peak through.

Closing the week was Bed J.W. Ford with a collection of tailored, highly individual looks. Here, jackets were sliced up the back to the middle, pockets were attached diagonally, and hems were left unsewn. Long-bodied shirts or innerwear peeked out from beneath wine red and yellow velvet jackets and the fluttering fabric gave off a characteristic sensuality.