---
Première Vision for Autumn/Winter 2019/20 majored on designs highly relevant to wool: thick tweeds, lightweight fabrics and decorative construction. Well-known patterns re-worked and re-imagined in a more glamorous and flamboyant way showed a general inventiveness which finds its way to classic cloth as well as avantgarde couture. Mills called out to confidence in a commercial world which has several ambiguities and unknowns to contend with, not least of which is the rise across the board in fibre price; the response was largely positive.
Fabrics have maximum variety and flare; designers blending different types of yarns, majoring on natural fibres, but not afraid to add synthetics for extra impact. It means that fine, soft, semi-transparency is seen side-by-side with thick chunky constructions, using colour and texture in an excitingly creative way for individual effects, many seen on British exhibitors' stands.
Next to skin, fine and soft wool is gathering pace in the rush to corner the burgeoning activewear market, where Merino wool has virtually become a stand-alone benchmark for comfort and performance for cyclists, runners and urban influencers. This has been fuelled by increasing evidence of beneficial effects for the skin, micro-climate control and ease of maintenance. Wool as an activewear fibre for athleisure was joined by strong interest in its application for running shoes and branded leisure footwear.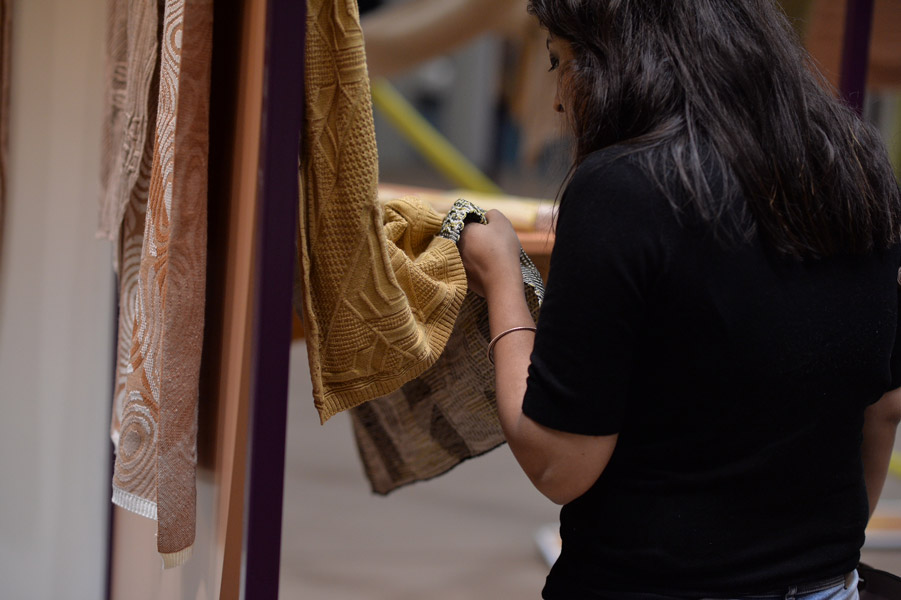 Texture and surface designs make the most of knitwear Yarns in 3D constructions.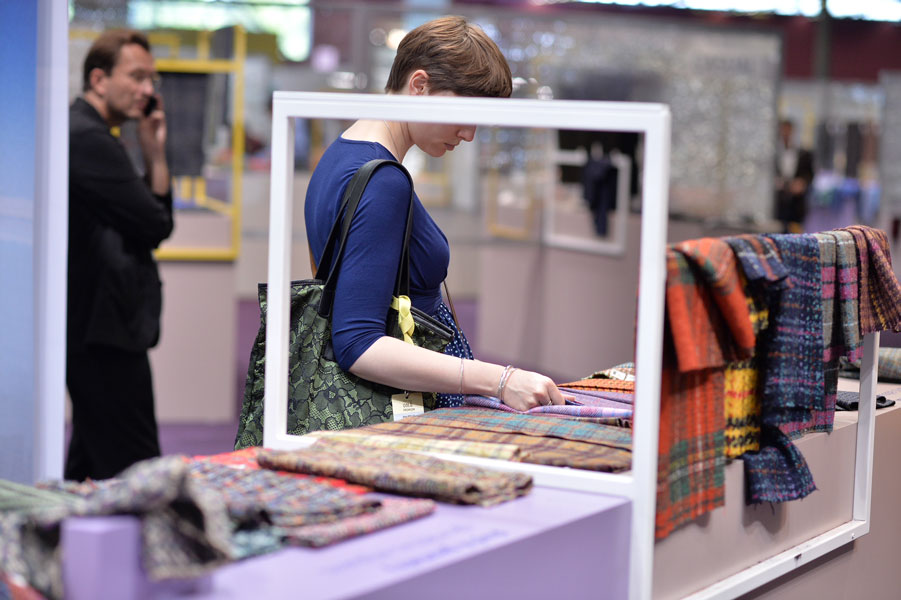 Bright and cosy wool plaids dominated coatings and jackets for womenswear.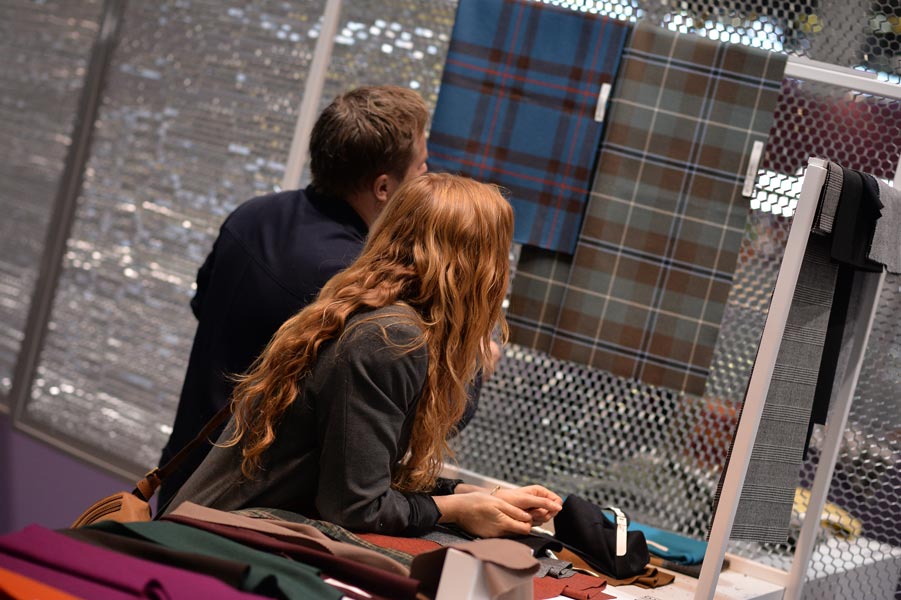 Large scale macro classics enliven AW19/20.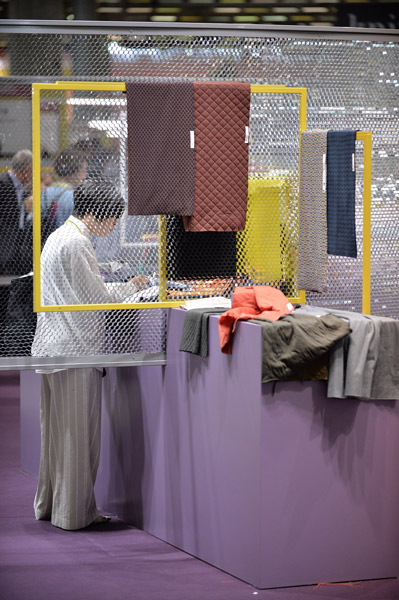 Dense micro designs and quilting give depth. PHOTOS: Premiere Vision.
Colour struck the visitor immediately. Major colours for womenswear included deep warm hues of winter, red and ginger as well as cool sophisticated pastels and a return to exploring synergy in shades of black, grey and brown. An emergent attractive rich brown was aptly called 'conker brown', seen in suitings, double-face coats and in bouclé knits. Bright and mid blue retains its popularity, chosen by international buyers across the board, reported the mills. Supersized checks in bright blanket colour such as pinks, reds, blue and yellow gave new takes on clan tartans, with brushed plaids both small and large, with colours moved around and mixed up. Tweedy wovens were highly decorated with uneven surfaces, unexpected twists, shiny yarns and ribbons - a punk style as if mixed with Chanel - at Linton Tweeds and Malhia Kent, adopting a more heterogenous look of mix and match fabrics, to appeal to a young generation breaking traditional dress barriers.
Menswear fabrics were a source of great invention, featuring variations on classic country checks and stripes interpreted in urban blacks and greys, with giant houndstooth for coats, high-twist wool worsted jacketings and smooth suitings hiding a touch of bright colour in tiny amounts. Flannel is a hot topic for Italian and British mills, interpreted elegantly by Fox Flannels in pale grey, Glen checks and chalk stripes. Suiting designs were sometimes so faint they were vestigial, Joshua Ellis names its subtle coatings 'flashlight plaids', the design fully visible only when a direct light is hitting.
Some polyester was being added to winter weights in small quantities, but silk or mohair were the principal additions to worsted suitings this winter to lend shine, while some hairy luxury animal fibre was added to achieve a different handle for knits and heavier fabrics in particular.
Messages on sustainability and responsible manufacturing have reached a new level of acceptance, driven by customer demand, with large manufacturing groups like Italy's Marzotto concerted in stressing eco-information and social initiatives. This puts wool, especially Merino with its traceability, in a very strong position.
Managing Director of Turkish wool giant Yunsa, Peter Fowkes, working with luxury and natural fibres for wool and wool blend fabrics, stressed the importance of eco issues: "Yunsa is certified for a green world and sustainable future," adding that this Première Vision brought a large number of new clients from Japan and South Korea. Likewise, Giorgio Conterno, Miroglio Lana's Commercial Director, pointed out the company's successful long working relationship with specific farms to source Merino. It introduced a new fabric quality containing boiled wool with a minority ratio repurposed wool fibre.
Première Vision's trends indicated wool is finding its way into all areas of fashion, despite unease about price rises, consolidating its place as a luxurious, high quality choice in new fashion, which is, to quote a reference at a PV press conference "from street couture to haute couture".