---
Regardless of career or lifestyle, every man should have at least two good all-rounder suits in his wardrobe: suits for all occasions that can carry you from the office to evening drinks, weekend weddings or worn simply to make a smart first impression.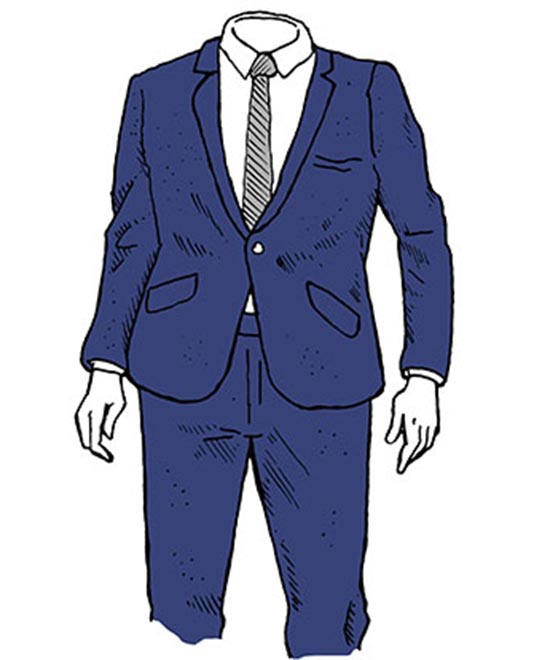 A classic suit is to men what the little black dress is to women – a timeless, versatile staple that can be incorporated into any wardrobe for any situation.
But with suit culture becoming increasingly more prevalent in the menswear market, so are seasonal trends such as fad patterns and even colours, which can make for finding that perfect go-to number difficult terrain to navigate.
The basics
Skinny, or ultra-fitted, has been a major trend in suiting, but it's not a cut that lends itself to many situations outside the bar. For sartorial style that's for the long term, however, a classic cut in a lightweight wool can never be underestimated.
The reason for wool, as opposed to something like cotton or linen, is that with thanks to its natural fibre, which breathes in warmer weather while still providing warmth in winter, is that it's also the most resilient. A lightweight wool suit will, with the proper care, last a lifetime.
The look
When it comes to the jacket, you cannot go past the subtle sophistication of a streamlined, two-button single-breasted jacket. While it is true that double-breasted suits come with an eye-grabbing dandyism, the simplicity of a single-breasted jacket has long-term dividends lending itself to any occasion.
Choosing a jacket with a half-lining will also help with all-year round comfort and wearability if you are in a warmer climate.
Subtle shade
While patterns such as Prince of Wales or windowpane check have had a revival in recent times they are prone to look out of place. There are, however, two shades that regardless of season or trend work for every man and every occasion. These are navy blue and grey, and ideally, you should have a suit in each.
Navy blue is a classic colour that has enough formality to carry a sense of authority but stops short of the heaviness of black. Equally versatile, grey is a slightly more adventurous option particularly when you reach the lighter, more silver shades.
Both colours offer a sound starting point for sleek, timeless style. As a solid base for an everyday wardrobe, these two colours become a canvas to the final flourishes of ties, lapel pins and pocket squares.