---
Singlehandedly responsible for reinventing and repopularising the handloom sari, Sanjay Garg turns his eye to Merino wool for a take that's new for both the garment and the fibre.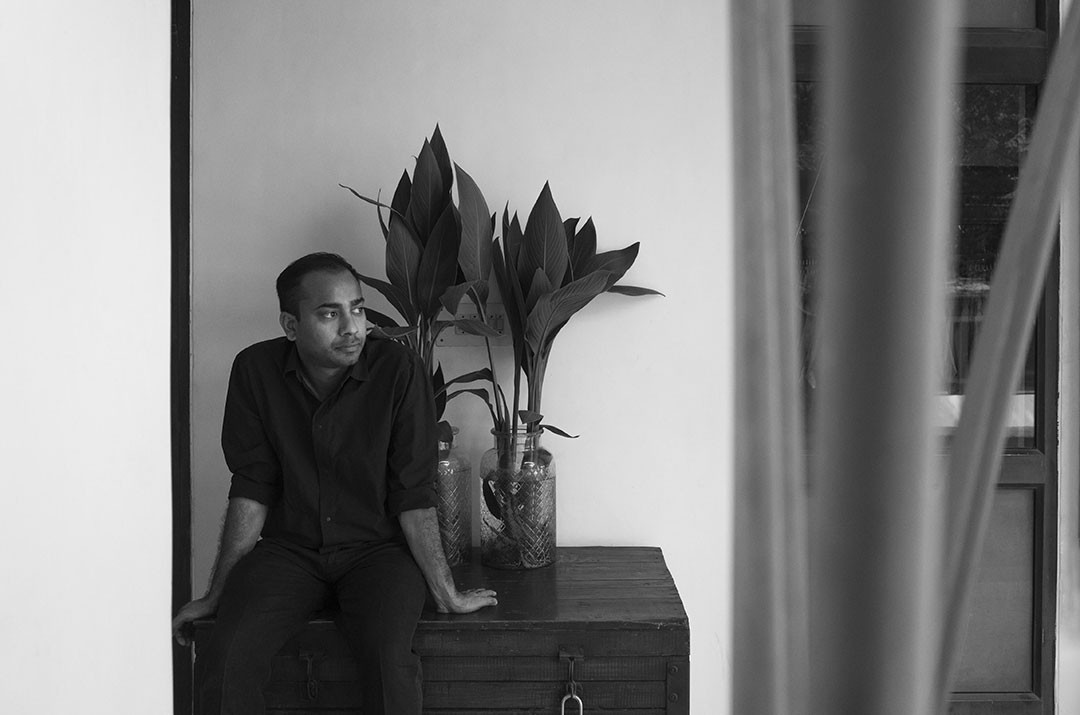 Almost a decade ago Sanjay Garg came onto the scene as a maker of beautifully coloured Chanderi scarves and saris. To the uninitiated, the sari is an unstitched length of cloth ranging from five to nine yards, which is draped in more than 100 regional styles across the country. But the very quality that makes it versatile – that it is unstitched – began to render it unwieldy.
Garg grew up in the Rajasthani village of Mubarikpur. Limited by his geographical background and government-school education, Garg moved to Jaipur to study business, because he didn't know what else. "I was always attracted to design; I just never knew the possibilities. If you don't even know what exists in the world, how do you know it's an option," he explains. In Jaipur, he finally learnt otherwise, and enrolled himself at the Indian Institute of Crafts and Design (IICD). He moved to New Delhi to specialise in textiles at the National Institute of Fashion Technology (NIFT). Then came stints working for home labels including Shades of India, a company that makes modern linens and home accessories with traditional crafts.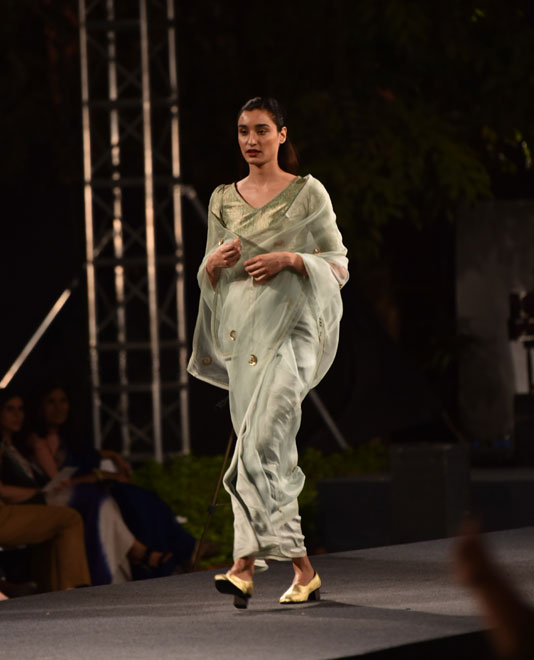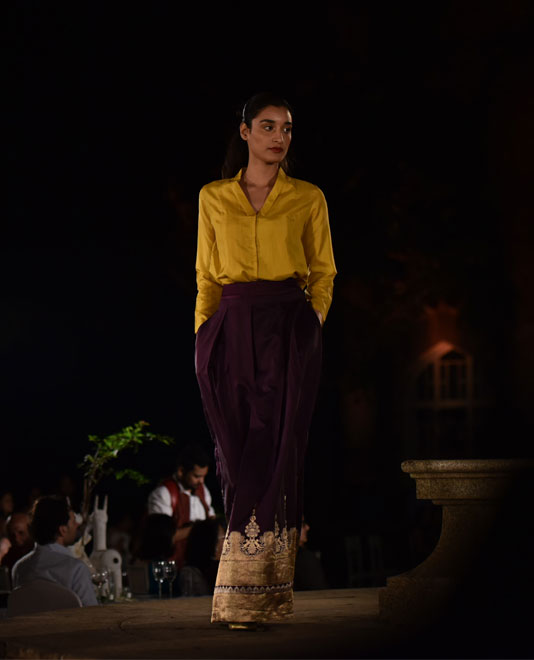 A few projects with the Ministry of Textiles led Garg's path to the town of Chanderi. "Like everyone else I wanted to go to school abroad, but I couldn't ask my parents for money. In Chanderi, I realised this is what I wanted to do." Chanderi is known for its diaphanous indigenous cotton of the same name, once patronised by India's royals, though the fabric hasn't really enjoyed popularity since the early 90s. With a loan of Rs. 90,000 (about USD 1650 at the time) from his father, even though his weavers were reluctant to weave his minimal styles, Garg persevered and in 2008, his Raw Mango label was born. More recently in 2015, he launched a second eponymous label of stitched garments, Sanjay Garg, where his experimentations in textile take structure.
It is important to take cognisance of the socio-political landscape of Garg's world. "Let's just say that I'm very aware and opinionated, and that comes through in my work. The way people look at 'inspiration' is too literal but to me it could be a disagreement, or discontent – with society, with fashion, with the system, with a medium. My work, I think, is a commentary." Perhaps Garg's confidence and small-town upbringing allowed for him to not be impressed upon, setting him free to develop his own design vocabulary.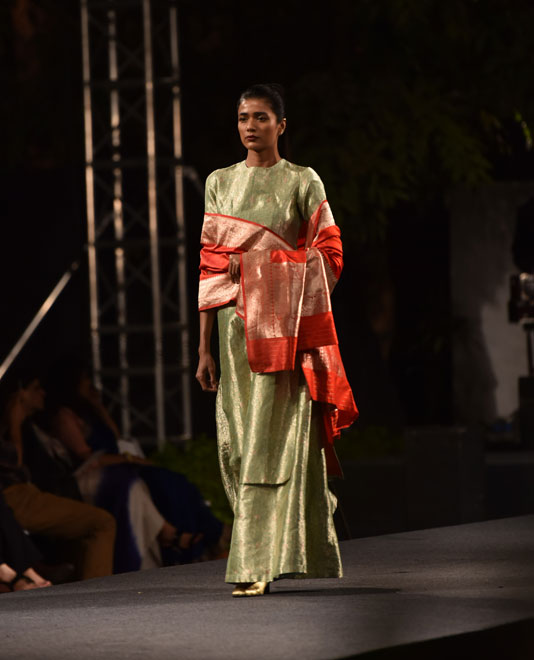 "Inspiration", he insists, "is not tota (parrot) and maina (myna)"; referring to the unconventional motifs that first shot him to fame and have since become synonymous with Raw Mango. "I did it, but it was all a metaphor. It's symbolic of something. It was a crow, by the way, never a parrot. The world saw a parrot because you don't put a crow on a sari. Aesthetically we've been told what's beautiful. You've been trained to see the parrot. Why does the parrot symbolize beauty? But I'm not playing versus here: Parrot Vs Crow. I'm saying why not this, too?"
With imagery reminiscent of India's folkloric fables – crows, cows, and monkeys – his victories come from inverting commonly held notions of luxury on their head. "What is luxury", he questions, in fierce, disgruntled earnestness. "Who decided? I want to question it. Luxury is not constant. It's like time, it changes."
At his stores in New Delhi, Mumbai, and Bengaluru he cleverly contests the idea of visual marketing. Employing modest, earthy design elements like limestone whitewashes and jute rugs, the stores are sparse, all daybeds and armoires, without any apparent display. Calculated to dazzle upon opening, these mul-shaded armoires reveal a treasure of rainbow colours and textiles. All this derives as much from Sanjay Garg as his actual wares. "Design is not rani pink or blue or brocade or mul. Those are just its mediums. If you know design, you can design anything. It's a way of life, a philosophy. That's how I want to challenge myself. "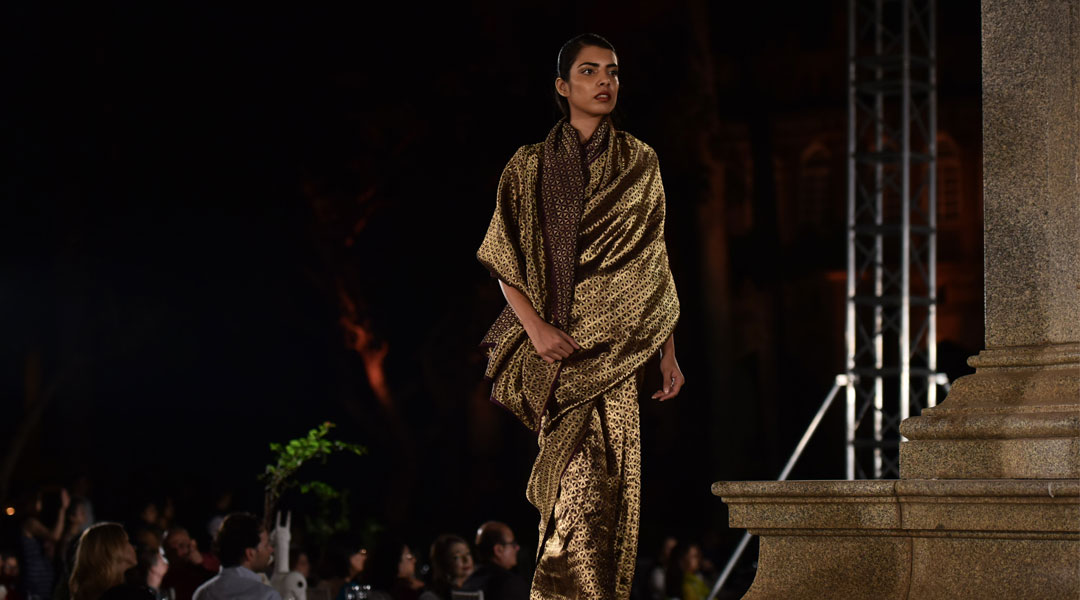 So, of course Garg would look to bring together the seemingly anomalous combination of the sari with wool. Garg revisited previous investigations with wool from 2009 and two years ago, he told frequent collaborator Hema Shroff Patel he wanted to do wool saris. Patel, a Bombay-based textile specialist and aesthete, serves on the board of WomenWeave, a charitable mission that equips women in the art of the handloom. She also runs her own label Amba, specialising in wool scarves and stoles, made on the famed looms of Maheshwar. "Well, that's easy, I said," Patel recalls. "He was very clear about his colours – muddy, dusky, earthy – and I was very clear we couldn't use the intricate Maheshwar border. The challenge was to make borders that had a silk sheen, without being able to see the weave."
Garg elaborates, "You can't just combine any two fibres on the handloom. Merino is such a fine, even, and soft yarn that it actually makes for the perfect marriage with Chanderi. The result is almost as fine as silk, with just the right weight, feel, and sheen." Titled Kohara, he released a 64-piece capsule in masculine aubergines, indigo blues, forest greens, and steel greys, with a lot of tone-on-tone – both a departure from and a nod to his signature colour blocking.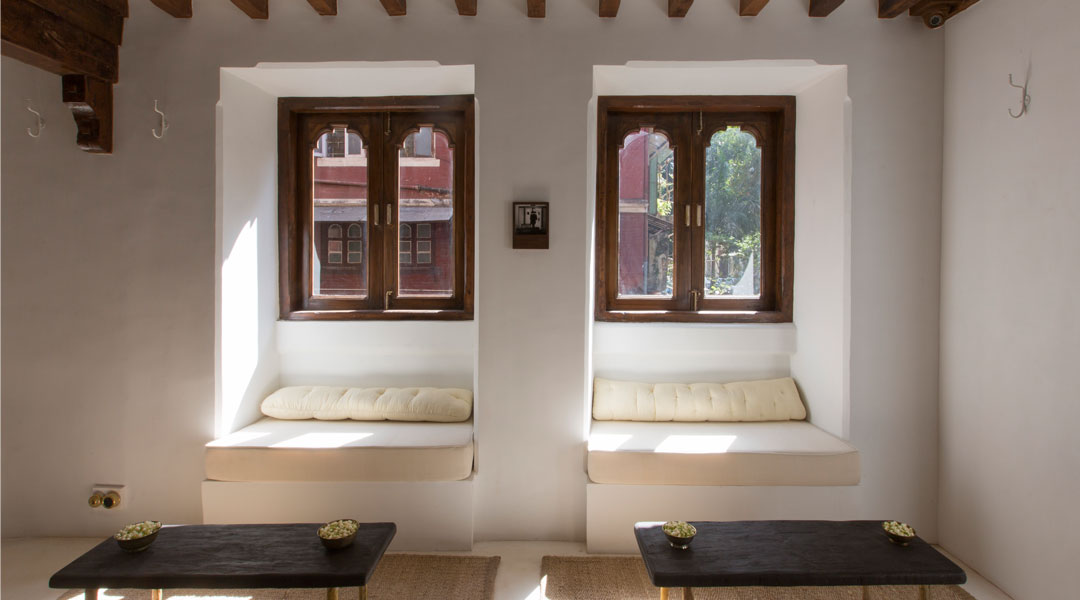 Again, Garg sees his challenges in material as part of a larger manifesto: challenging ideas. "Nobody could imagine the most powerful woman in India, Sonia Gandhi, wearing lime green (a colour riddled with local cultural connotation). Nobody could ever believe that one could have a wedding garment without embroidery; I wanted to change that notion with the brocade lehnga. Can younger girls wear the sari to parties and make it look cool, I wondered, and it happened. I want to push boundaries, of these associations of class and stereotypes, of ideas that India is this or that."
Earlier this year, Garg opened his flagship in Mumbai, celebrating with a showing at Mumbai's historic Chhatrapati Shivaji Maharaj Vastu Sangrahalaya (better known as the Prince of Wales Museum). Momentous, not least because the museum never allows showings of the kind, but also because it is the place Garg first launched Raw Mango, at a humble stall at Jaya Jaitly's Dastkari Haat Samiti exhibition. Occupying prime real estate, his Mumbai outpost takes over the space that once housed the exclusive multi-label boutique, Bombay Electric, firmly stamping Garg's sensibility on the city and with India's fashion elite.