---
In 1896 the Japan Wool Textile Co., Ltd. was founded, and in this moment, defined the course of the Japanese textile industry. In 1899, the factory in Kakogawa opened, followed by several other Nikke plants around the country.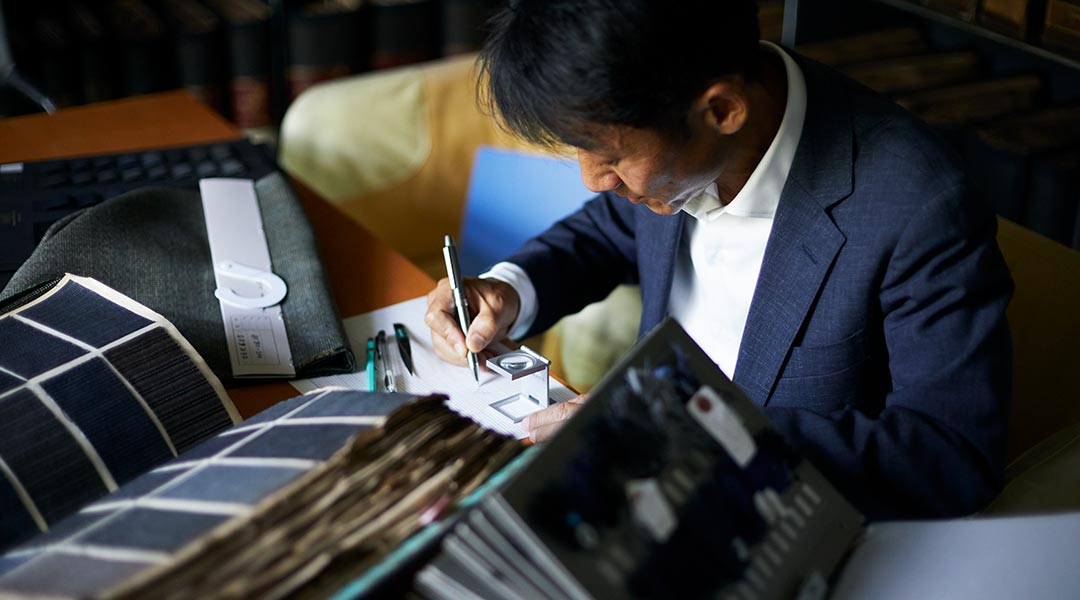 Today, they have three production sites in Gifu, Inami, and Ichinomiya with a fully integrated approach encompasses spinning, sewing, dyeing, and finishing. It would not be an exaggeration to say that Nikke has defined the history and evolution of Japanese wool textiles for 120 years, and continues to produce high-quality products. Today the domestic facilities produce 6,000 tons of yarn annually and an amount of fabric; you will frequently find cardboard boxes bearing the Nikke logo at the headquarters of textile manufacturers not just in the Bishu region, but across Japan.
In 1996, the 100th anniversary of its founding, The Japan Wool Textile Company opened the Nikke Creation Studio in Ichinomiya. This space is the crystallization of the company's history and efforts in one place, telling the story of the company's heritage. The space also houses the Nikke archives and a museum dedicated to European textiles, containing 225,145 samples of cloth produced between 1858-1981 in Europe, encouraging textile producers and designers to visit from far and wide to draw inspiration from the textiles on display and use these insights to develop new ones. The archives' motto is that "good textiles are backed by good design". The room opposite the textile museum has 50,000 samples of textiles that Nikke has produced since the turn of the Century to present, with each piece containing detailed design specifications alongside. Nikke employees say they use these items to both recreate classics and develop new products, making these two archive spaces beautiful testaments to the path Nikke has traced during its history, respecting tradition while pursuing the innovation.
Thus far, Nikke has developed a wide range of materials including MAF®; a high density merino wool textile, TraveLook®EX, an advanced wrinkle-free material, the PLASMAFINE® line incorporating numerous functionalities, WELWARM®, a heat-generating wool, and other new materials drawn from the company's tireless innovation.Nikke Nagaragawa®, the latest invention from Nikke, is a hybrid twisted filament yarn containing wool combined with a polyester filament, which was developed during the course of thirty years, giving a final structure to the yarn that enhances the refined texture and feel of wool. MIRAIZ® is a fabric that makes use of this yarn that's particularly suited for luxury school uniforms with its light feel, high ability to stretch, smooth texture, and attractive appearance, yet it lasts long, wears well, and can be washed at home. Nikke's reputation as a long-time producer of school uniform fabrics is what enabled it to drive this latest innovation.
In addition, the company's expertise in patterns and the consistent reproduction of colours used for checked fabrics in school uniforms, has drawn acclaim from overseas fashion brands and led to numerous new accounts. Nikke's functions by the slogan "using feedback today for innovation tomorrow", giving a glimpse into how the company uses input from customers as a springboard for the future.