---
From renewable and ethical replacements to animal hide and down, to traceable supply chains and upcycling techniques, the 2018/19 International Woolmark Prize finalists excelled in applying wool to considered and innovative fashion design.
TEXTILE INNOVATION
FLOATING FLAT KNIT
Knit products in today's market only show about 10% of what knitting can accomplish; a fact that Hong Kong based brand i-am-chen constantly looks to rectify. To show how lightweight Merino wool is, i-am-chen changed the fundamental knitting structure by floating the 100% Superfine Merino wool yarn over a monofilament so that the wool floats decoratively on the surface. The shirt made with this technique only weighs 60 grams.
TEXTILE INNOVATION
CONVERTIBLE PUFFER JACKET
Colovos developed a puffer jacket with 100% wool insulation rather than down feathers, and 90% wool outer fabric that's totally traceable, as well as being water- and wind resistant. The garment's construction also allows it to be hung and fastened over the shoulder when it gets warm, allowing the wearer to adapt to changing indoor and outdoor temperatures without losing arm freedom.
Upcycled knitwear
By sourcing discarded and pre-loved knits, CMMN SWDN gave a new lease of life by needle punching through new 100% Merino wool in areas that the sweaters needed some love. These bespoke pieces were developed to be made to order in-house, and extended the idea with new garments that have been distressed and restored in the same style, with the help of Stoll's Knit Design Centre in Leicester, England.
"I'm constantly amazed that what I'm looking at and touching is wool. The potential of this fibre is limitless and such a topical fibre for all the issues it touches on such as sustainability and waste management."
Screen-printed wool with protein dissolving pigment
Edward Crutchley created a lightweight 100% wool weave, hand-printed and treated by a master of screen-printing in Kyoto. First, printed with beige strips and then black ink, the whole textile was then discharged using a protein-dissolving pigment to give the lace-effect and scalloped hem; a process uniquely suited to the protein-fibre of wool. This effect was then highlighted with a gold foil edge, a technique the screen-printer had never done before.
100% wool parka
Colovos reinvented a parka jacket – a garment most commonly made with synthetic fabric – in 100% traceable wool from Dina Filarte. The textile otherwise known as OptimTM, is created by pre-stretching and spinning Merino wool fibres into yarn before they're woven to create this water and wind resistant fabric.
Jacquard wool fur
Chinese designer Angel Chen made a jacquard fur coat, though not with animal hide, but with 100% wool yarn dyed in six tones with reactive ANOFIX dyes, developed and engineered specially for wool to create vibrant colours - showing how well wool can take colour - and as a method that's more environmentally friendly to chrome-based dyes.
"Innovation and creativity and tradition are all one word, an extension of the same sentence, it's all one. And I think to see creativity and innovation and to see intelligence and emotion in these collections is a great thing."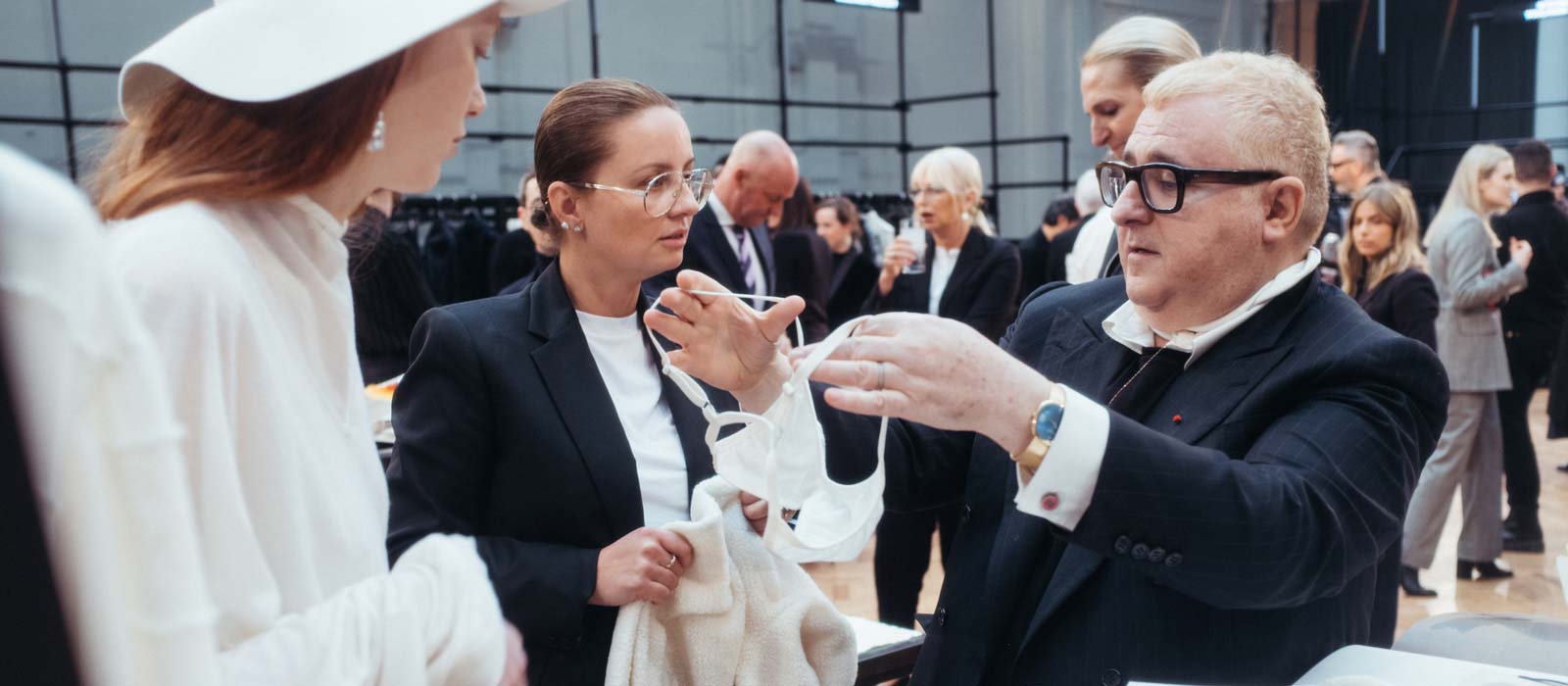 Wax-coated cavalry twill
Edward Crutchley's cavalry twill – a traditional coat fabric made by Dormeuil and the weight and drape of leather – was wax-finished to make the textile durable and waterproof. This was then used to make items that are otherwise iconic leather pieces; a bomber jacket and utilitarian boot, though this time in a renewable and animal-friendly alternative to animal skin.
Knitted puffer coat
i-am-chen created a flat-knitted puffer coat with 100% extrafine Merino wool for the insulation inside the jacket and 100% Superfine Merino wool for the outer, all of which are knitted in one single piece by China-based Aussco's research lab inDhouse.
Shibori-dyed knitwear
Edward Crutchley worked with the Kyoto Shibori Guild to dye his classic Zegna Baruffa punto Milano rib knits with Arashi Shibori, a centuries old method of design dyeing where the fabric is wrapped around a cylindrical form to create random creases. This was the first time ever that a knit, rather than a woven fabric, has been dyed in this manner by the Guild.