Sculpture Merino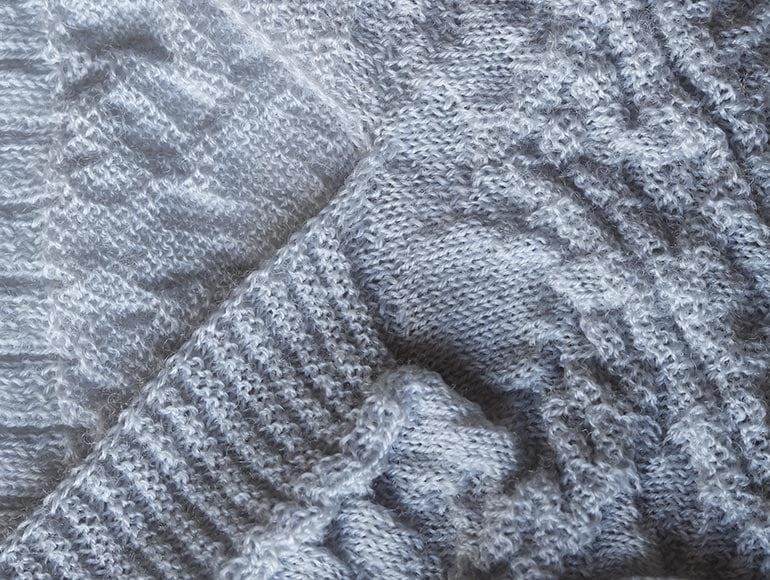 Sculpture Merino wool creates natural creases all over knitwear for a relaxed, casual look.
There are two types of crease in textiles, accidental and deliberate. Accidental creases are usually a problem but deliberate creases in a garment can create contemporary and casual aesthetics.
These effects are unusual for Merino wool knitwear because it so readily sheds creases.
The approach of using special and expensive memory crease yarns suffers from poor handle and high cost.
A technique has been developed which creates natural creases all over a garment giving a unique look to worsted-spun easy care knitwear.
The technology
The sculptured effect can be created by permitting a garment to cockle (normally random and unsightly creasing) in the most severe and complete way.
The technique involves breaking many of the rules of knitting fine gauge worsted spun knitwear. By using a combination of a wider than normal range of fibre diameters in the blend, yarn steam-setting, loose knit-density and overloaded wet-finishing machines, consistent cockling in worsted-spun knitwear can be created.
The features
Contemporary creased garments.
Each garment is unique.
Creases are durable to machine washing.
Soft handle of pure Merino wool.
For further information about Sculpture Merino contact your local Woolmark Company office.