Discover the new prototype collection of women's cycling garments that illustrate the full potential of Merino wool technical seamless performance apparel.
When combined with the latest technological advancements in yarn development and knitting technology, Merino wool provides garments with superior comfort, durability and performance for the modern cyclist.
Innovative knitwear designer studio Studio Eva x Carola designed the collection with Südwolle Group Merino wool yarns knitted on a Santoni knitting machine.
The fabrics in the collection utilise Merino wool's superior softness, breathability, moisture management, elasticity and odour resistance.
Seamless cycling collection for women
The collection comprises a Merino wool cycling bib, jersey, arm-warmers and socks, that together create a complete, layered kit for ultimate cycling performance.
First Layer
Second Layer
Accessories
Socks
First Layer
Women's cycling bib
The cycling bib has been created for the female form with bra shaping that gives support and stretches with the body to accommodate a range of breast sizes. The zoned placements via body-mapping were achieved with the capabilities of Santoni's seamless technology. The mesh pattern knit across the torso and legs of the bib creates a raised structure for breathability and ventilation with medium compression, and the leg opening features a gripper on the inside to avoid the leg going up.
Made using Südwolle Group's Hildago yarn, comprising 83% Merino wool, 17% Nylon knit together with Nylon/Elastane core spun yarn, the garment is easy and quick to knit in quantities for a commercial environment, while providing great softness and thermal regulation properties.
Second Layer
Women's short sleeve cycling jersey
The short sleeve cycling jersey has a gradient yarn colour application with a closed mesh body for air movement and diverse density for breathability. The half-zip front and integrated pocket storage at the back add functional benefits whilst the bonded seam finishing and the seamless side adds comfort and performance benefits. The hem features a gripper on the inside to avoid movement during cycling and the reflective heat transfer provides visibility during night riding.
Made using Südwolle Group's Pearl yarn, comprising 100% Merino wool of 15.5 micron knit together with Nylone/Elastane core spun yarn, the garment has a most luxurious touch for performance wear.
Accessories
Women's cycling arm warmers
The cycling arm warmers feature a textured fabric with reflective detailing and integrated grip at the top of the sleeve to prevent slippage whilst the knit structure has shaping at the elbow for comfort and bonded seams.
Made using Südwolle Group's Pearl yarn, comprising 100% Merino wool of 15.5 micron knit together with Nylone/Elastane core spun yarn, the arm warmers have a beautiful soft feel against the skin.
Socks
Women's cycling socks
The cycling socks have a detailed knit pattern with reflective details knitted into the cuff and a rib structured footbed for comfort and cushioning. What is special about the reflective detail is that it is knitted in rather than bonded or printed on top. As it's positioned in the welt of the sock it feels soft, comfortable and allows for the required stretch when taking on and off (while remaining in form during the ride)
Made using Südwolle Group's Wagin yarn, comprising 100% Merino wool of 17.5 micron knit together with Nylon/Elastane core spun yarn, the socks provide enhanced comfort and breathability.
Innovative construction
The garments were knitted using Santoni's Top2 Fast technology (single jersey machine) using a finer gauge (E32) to what is mainly used in the market (E28), which provides a lighter weight material.
Key stitch structures include compression for performance and recovery, an open structure for ventilation and breathability, and loft on both the inside and outside of fabric for insulation and warmth.
"By smartly selecting the right Merino wool yarns and creating beautiful textures and loft structures, the garments not only offer a gentle-on-the-skin comfort, but also provide durability and protection during your ride."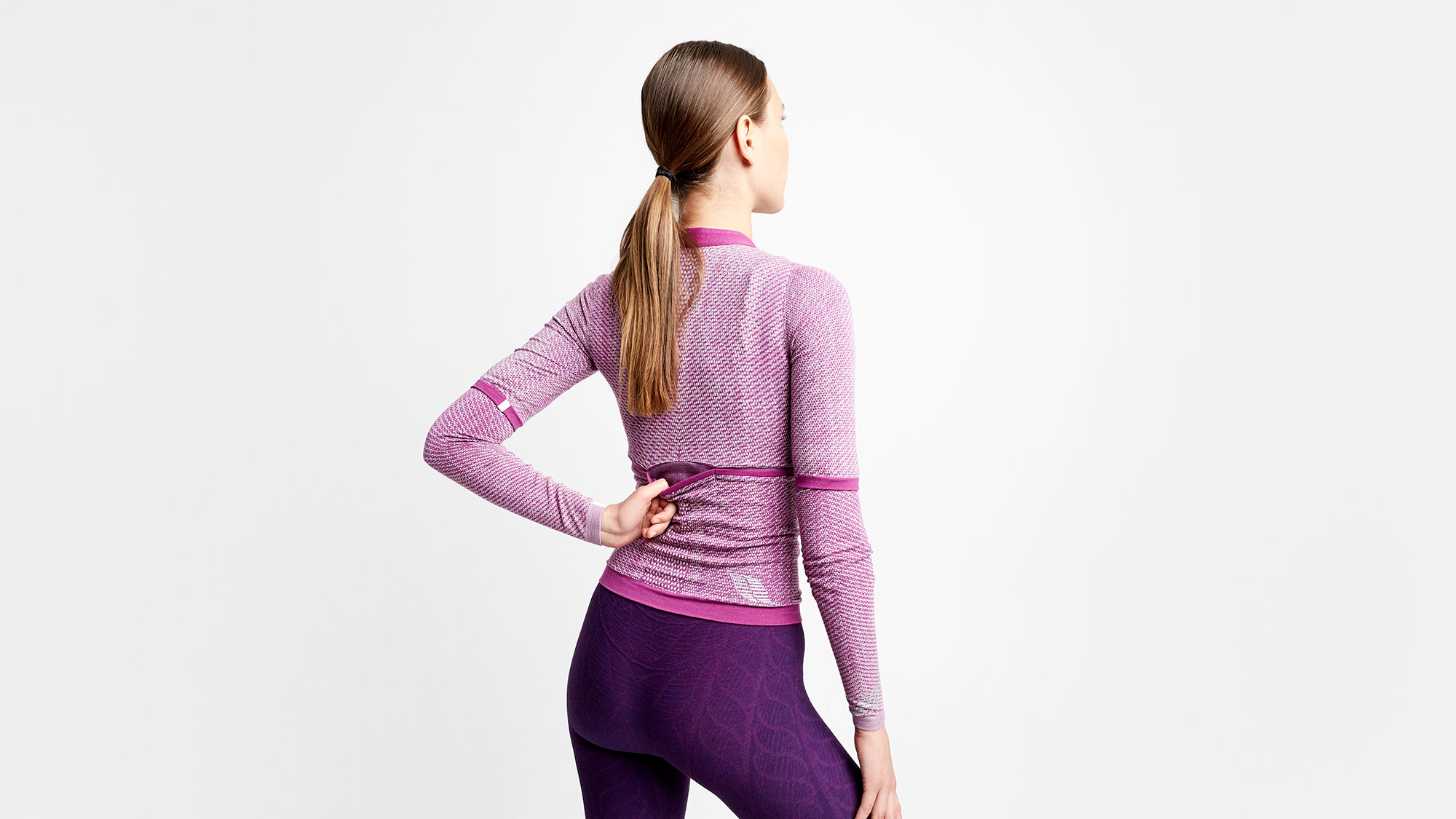 The seam bonding used in the garment construction was developed in collaboration with Italian company MACPI. It incorporates a very clean finish that eliminates any seam friction while also retaining the flexibility and movement needed during cycling.
Each fabric has been rigorously tested for performance regarding burst strength and abrasion resistance.
High quality reflective tape on the face of the fabric was created by heat transfer in close collaboration with S.E.C. Accessories, a company that works with the world's leading sports brands.
Natural eco-credentials
The garments are vastly more eco-friendly than their synthetic counterparts. The eco-credentials of Merino wool – a 100% natural, renewable and biodegradable fibre that doesn't produce microplastics – ensure a minimal environmental footprint on the planet.
Furthermore, the seamless knitting technology reduces fabric waste in comparison to traditional cut and sew methods.
Due to its piece-by-piece bulk production method, seamless knitting provides a high degree of flexibility and personalisation.
Seamless cycling kit
Merino x EVO® by Fulgar
We've created another seamless cycling collection, this time for men, in collaboration with Hong Kong-based company Chemtax, pairing Südwolle Group's Hildago yarn with Fulgar's bio-based EVO® yarn. The garments, a cycling jersey and short, were produced using Santoni's Top2 Fast knitting machine.
EVO® by Fulgar is a yarn derived from the castor plant that, like Merino wool, is a totally renewable resource. Plated together with the Südwolle Group's Merino wool yarn, the two yarns create a very eco-friendly product. A fine and high strength yarn, the EVO® by Fulgar provides extra stretchabilty to the product. This collection has had its burst strength and abrasion resistance rigorously tested.
Seamless innovations
Merino wool yoga collection
Discover the 12-piece Merino wool seamless yoga prototype collection. Utilising Santoni's state-of-the-art circular seamless knitting machines, designer studio Studio Eva x Carola
Developed a collection that includes leggings, crop tops and bras, racer-back tank top and a T-shirt, all created with superfine 15.5 micron Merino wool yarn from the Südwolle Group.
READ MORE

Discover Merino wool performance fabrics