---
Bringing Milano Unica forward by two months was a bold decision, but one that paid off as the latest edition saw strong visitor numbers and a keen interest in wool.
Milano Unica has pulled off a bold move by successfully advancing the date of the Autumn/Winter collections for 2018/19 to July from its usual September slot. Milano Unica President Ercole Botto Poala expressed satisfaction that visitor numbers had held up, and that there was a substantial increase in exhibiting companies at the new date. It seemed to vindicate the claim that the authorities had listened to their customers, that there needed to be an earlier start to the buying season. "Ultimately what counts is what the customer wants," said Francesco Barberis Canonico, Creative Director of Vitale Barberis Canonico.
The atmosphere was sunny and positive as the wools and cosy fabrics for winter were exhibited. Menswear at Idea Biella is always a major draw to Milano Unica, and there were reports from exhibitors that they had also seen more womenswear buyers this time.
In the revamped trend area, based around famous film-makers' oeuvre, like Sorrentino, Almodavar, Tarantino, particular trends were identified: for example, bold menswear fabrics in Sherlock Holmes by Kubrick; wool and wool mixes featured strongly in the many womenswear fabric choices, as well as dynamic menswear collections.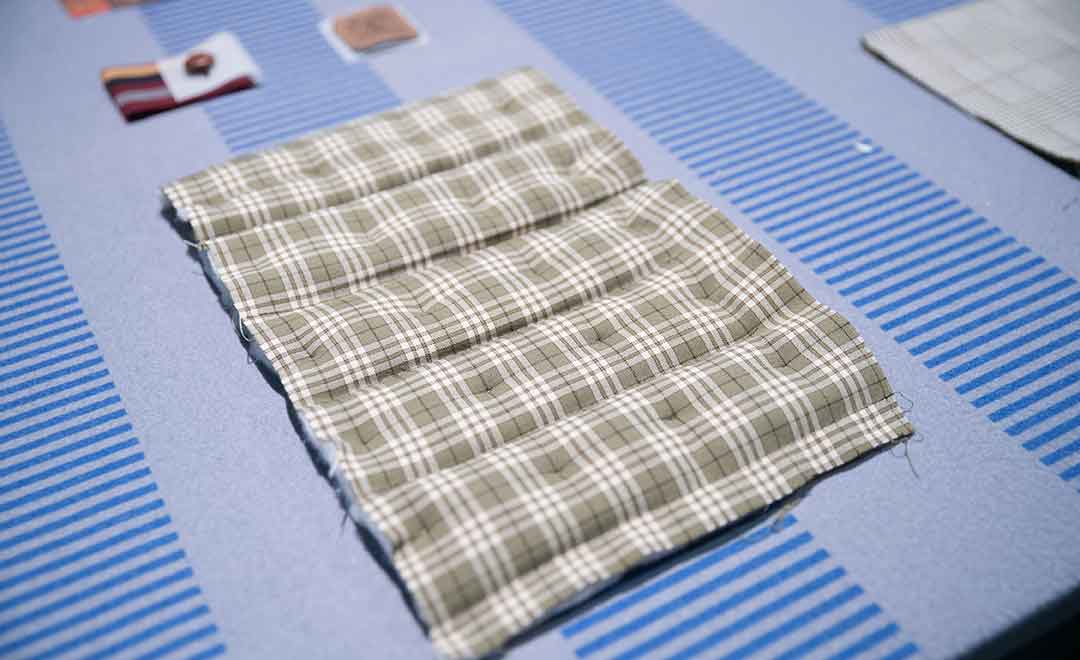 The fashion for quilting continues.
The trends signalled in the recent yarn shows and flagged by forecasters mixed high-quality luxury fibres and yarns. They featured varied weaves and knits interpreting the current idea of dressing comfortably while keeping an urban edge and a sense of individuality. It is clear that wool is ideally placed, with the rapid development of new finishes and techno designs, to complement intrinsic natural advantages now widely acknowledged.
The principal message was that lifestyles and expectations are changing and that the modern customer will browse the internet or go into retail outlets to see what is new, and then buy. This affects the pace and timing of modern selling, which contributed to re-thinking the season's calendar. Designs need to embody traditional quality and also a fashion edge with a growing ethical focus.
"Natural things are a trend; wool is a real trend; clients are talking about wool being better than man-made," said Vitale Barberis Canonico Managing Director Alessandro Barberis Canonico.
The travel suit has once again been identified as important - usually all wool, probably smooth ultra-fine Merino as at Zegna and Cerruti. This season they were also woven from substantial, thicker yarn, sometimes mixed with a little cashmere, or alpaca, and finished so that water will roll off in a rain shower, that clothes will not feel sweaty in a hot climate, and most of all that they will survive a plane journey fresh and smart, for men and women.
Brown is reborn as a key menswear colour spectrum.
Colours ranged from heathery tones and greys to an emerging feeling for many shades of brown, which promises to be important, from ginger to beige and chestnut. The latter spectrum was sometimes seen in thicker woollen qualities for jackets and coats. Bishu, Japan, was leading wool styles with a slightly harsher wool in small herringbones. Flashes of red or orange illuminated darker coloured grounds. Dashing Tweeds had original twists on wool favourites which transformed classics with colour and design.
Directional bouclé yarns and felted effects, some with milled surfaces and brushed airy looks, appeared in many collections. Wool worsteds with shadowy designs, described at Reda as "dark fantasy" recalled the misty magic of Lord of the Rings. Striped wool blazerings made a winter version of the summer a favourite in several collections, at British mills, underlining the differing roles of wool in the new season and its vital role for men's and womenswear.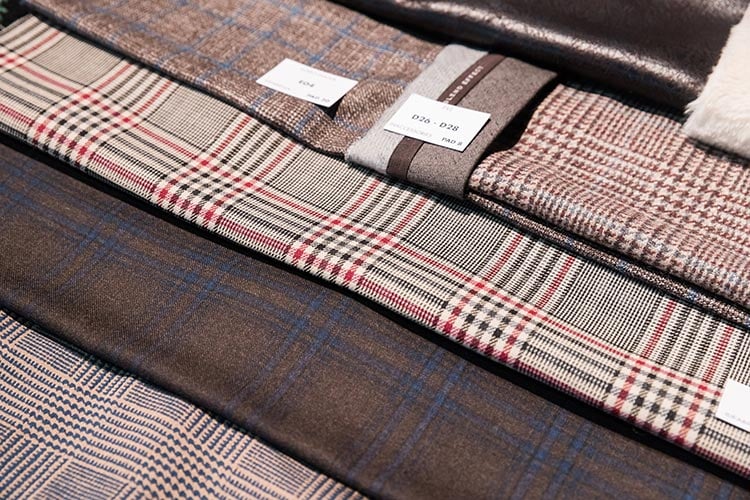 Red is the colour accent with warm browns for casual chic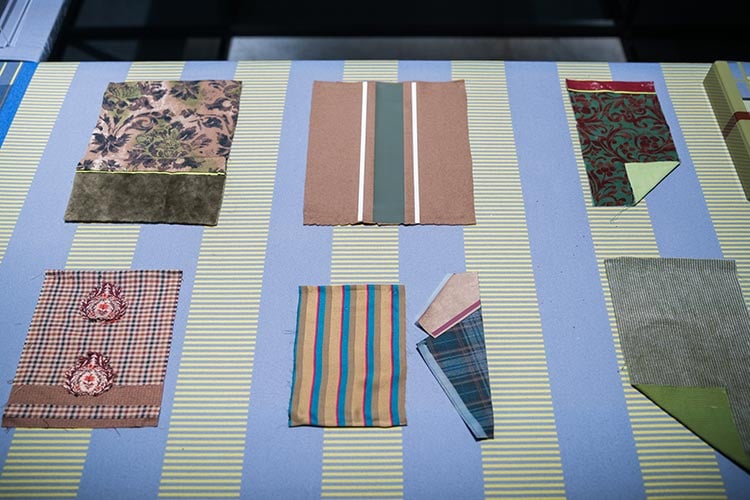 Inspirational geometrical designs in trend colours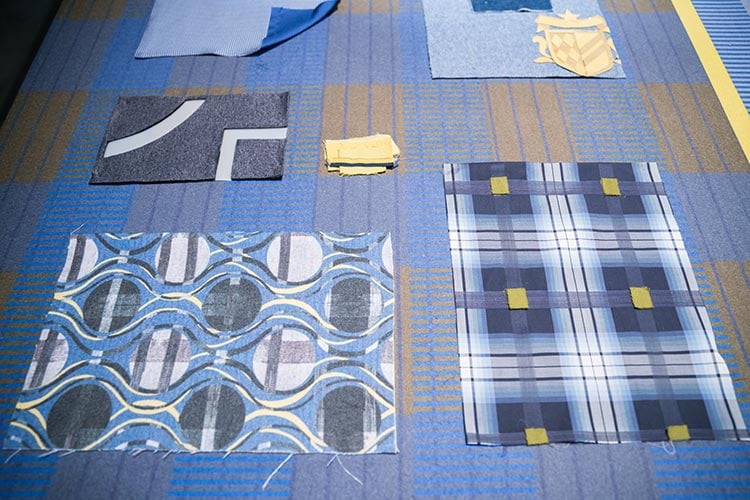 Colours and graphics on trend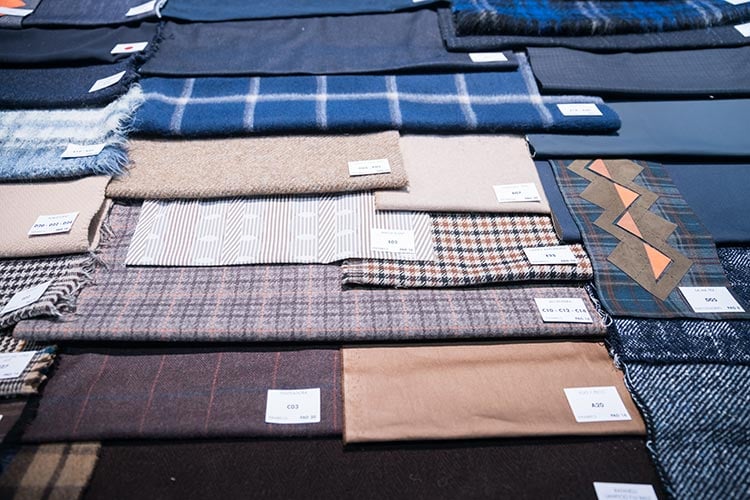 Geometrics are slightly blurred and softened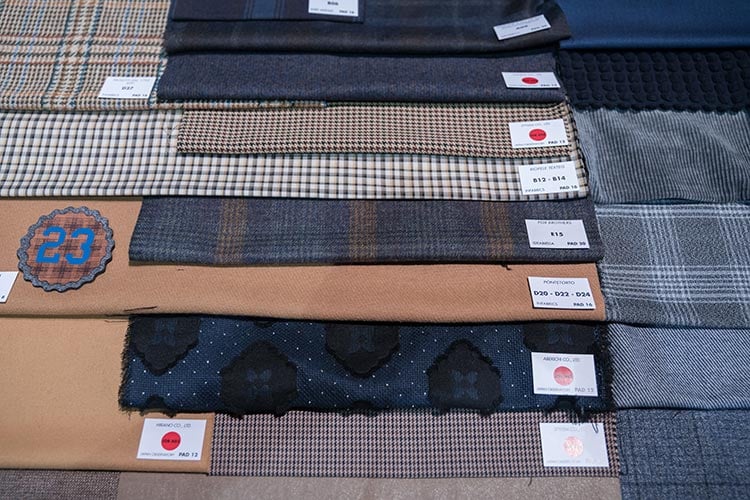 Enlivened classics and subtle surfaces