---
Summer was the main focus of Milano Unica in February. At the same time, there was more than a touch of trans-seasonal designs among the offerings by the classy exhibitors as buying patterns adjust themselves to multiple market demands. And as Janet Prescott discovered, there was a lot of fine wool around teaming up with other natural fibres.
Dominated by Italian design and joined by up-market brands and exquisite textiles from other key countries including the UK, France, Germany, the Japanese and the Korean groupings, it was evident that all shared the same approach to quality and design.
Lightweight Merino wool suitings, blazer fabric and jacketing in traditional summer fabrications suitable for participants and spectators of sports such as boating, rowing, or cricket, as at Fox Brothers and Dashing Tweeds, dominated some collections and gave a touch of fun. For Summer 2018 generally, there was rather more colour, including bright red checks in accessories and accent colours in weave, with more texture in classics, though retaining the general feel.
Designs for jackets were rarely plain, even if they appeared so at a distance. There were little areas of grey and white, salt and pepper effect, with specks of colour and random irregularities, especially when a linen or silk was added to wool.
Lightweight jacketings came in 50 shades of blue. Wool was mixed with linen for smart summer jackets, smooth navy blazers and double-face fabrics for unlined jackets were part of the significant layering trend for 2018. Added to these were summer tweeds and flannels some with flashes of orange or red, not traditionally summer colours perhaps, but looking bold and optimistic, as well as shades of green from lovat to olive.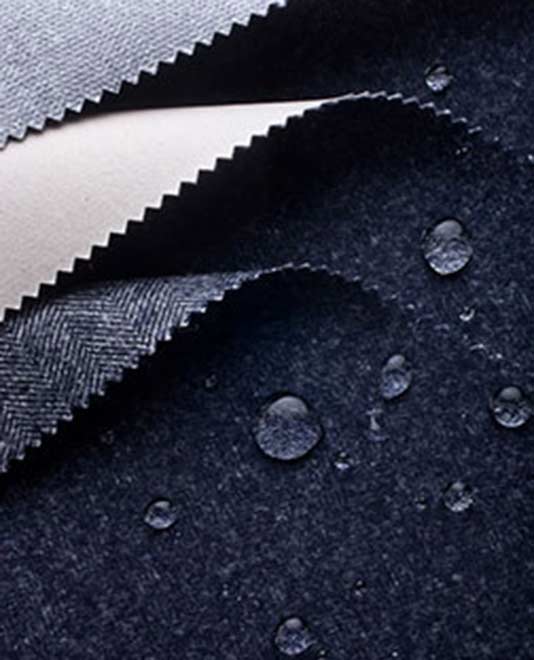 Loro Piana's Rain System fabrics.
Darker, slightly heavier materials, were also offered to cater for trans-seasonal merchandise, including wool, linen and silk, and for the many different climates and areas of the world represented by the buyers at Milano Unica, which could be a significant change in business patterns. Sustainability and technical strength are valued in all areas and research is a major selling point, especially in developing multiple blends and enhancing performance with major brands like Reda and Loro Piana introducing high performance innovations.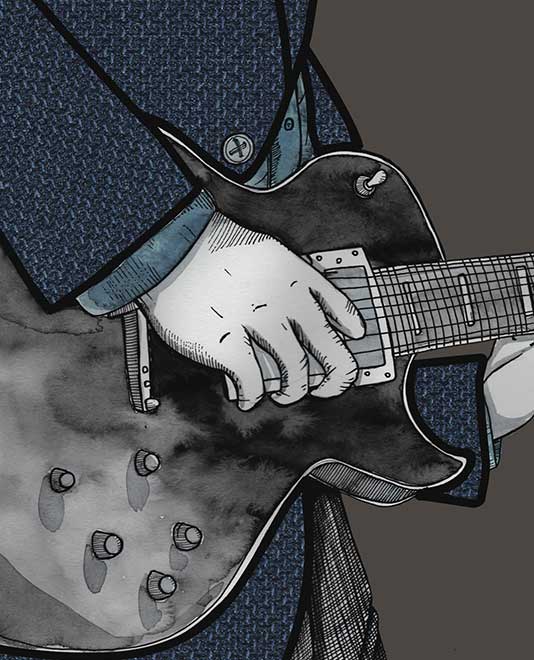 Millennial appeal from Vitale Barberis Canonico
The young millennials were catered for with classic summer suitings made up into blouson designs or with fancy strapping, as at Cerruti, part of the reconsideration of how fabrics could be re-purposed for different end uses, an interesting message to buyers for creative uses.
A touch of exoticism came from the trend area, with Italian destinations of beautiful landscape teamed with names taken from literature and folklore to create a context. These used many settings which brought together fabrics from different areas to show how they could work: knits, shirtings, wovens and prints, united by colour. Designers splashed out, sometimes literally, with fabric as their canvas, using prints, knit effects and seersucker constructions, giving a truly three-dimensional quality to many light fabrics.
Idea Biella retains its exclusive air of quality. Fancy patterns with overchecks and micro-effects leading to individualised fabrics give an artistic signature at such names as Loro Piana, Cerruti, Barberis Canonico and Zegna. Texture came from small knops, narrow overchecks, bright but not overwhelming, and micro-geometrics for an extra depth.
Greys, brown and blues were once again the key colours, but there is a definite feeling for green and the more avant-garde pinks, reds, lilacs and purples - all of which enhanced the lively, relaxed designs presented, which served to underline the fact that wool is a major summer fibre and team player.