---
The growing demand for ethical production was propelled with technical textile advances at Pitti Uomo 95, in Florence, Italy, as Janet Prescott discovers.
Designers and buyers looked for both verve and worth at a lively Pitti Uomo. Merino wool was used extensively, alone and in partnership, lending and borrowing special features in blends and laminates for specific effects.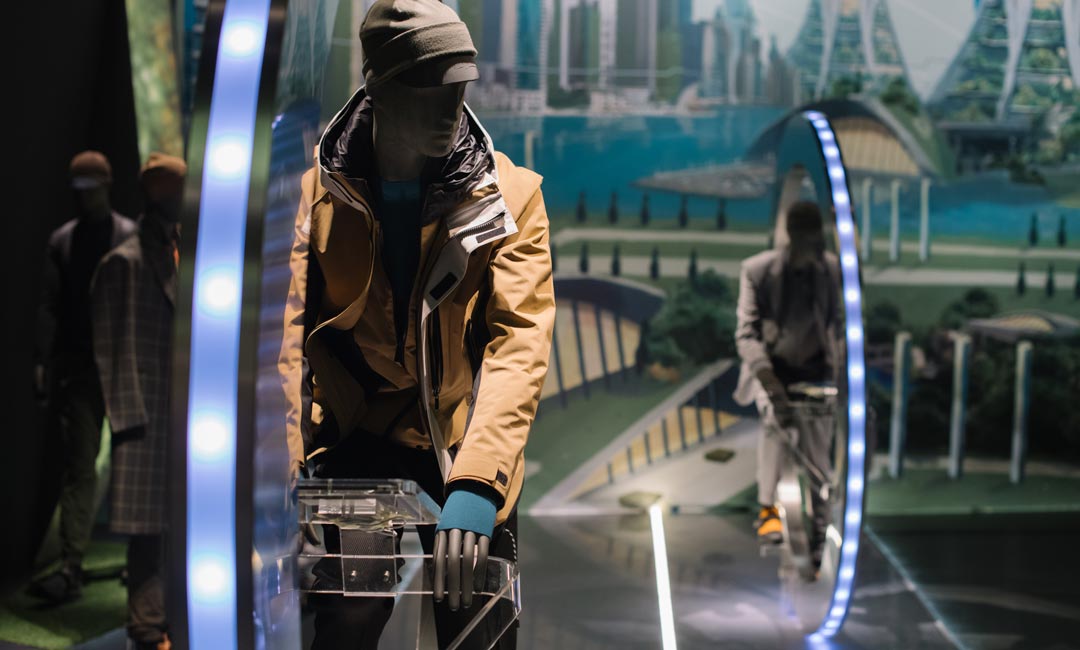 Z ZEGNA displayed Technical Merino in jackets, two-pieces and essential layers. Photo: Vanni Bassetti
This 2019/20 show highlighted the movement toward sustainable production, non-polluting fibres and ethically made clothes – all now firmly mainstream – and were marked by a high-profile conference in the British Institute Florence during the week. These concepts bridge the gap between new classics and cutting-edge technical performance and are driving the agenda for innovation.
Full technical approaches were the focus. Layers work with each other, responding to variable conditions and the weather by exploiting innate qualities of natural fibres.
Knitwear, wovens and the growing use of wool for sports shoes display technical advances. Tweedy looks and coarser wools also came into their own in skinny single-breasted suits, jackets, double-breasted waistcoats and overcoats, or knitted hats, many collections sporting massed mannequins in colourful rows.
The most important brands have responded to new approaches in sourcing materials.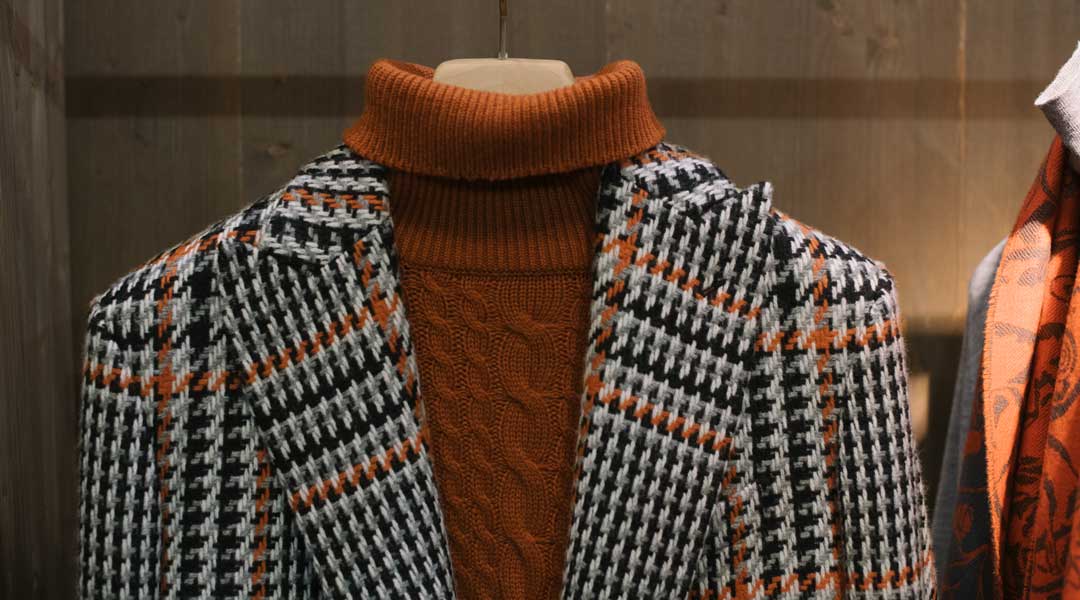 Tweeds and colourful knitted came into their own at Johnstons of Elgin. Photo: Vanni Bassetti
Johnstons of Elgin CEO Simon Cotton emphasised the value of the vertical business and the importance of wool in this development.
"This new collection is really underpinned by Merino; we are both knitting and weaving with it, especially Merino in finer microns, using whole garment technology," he explained.
"We have confidence in our substantial investment and innovation, and with the scope of the business, we have something which is unique; a real story to tell."
Performance wool was high profile at ultra-cool, high-octane labels like Z Zegna, with an eclectic mix of fabrics, styles and colours. Technical Merino was used for jackets, two-pieces and essential layers – all displayed in dramatic versions with mannequins on bikes with flashing lights.
Gallery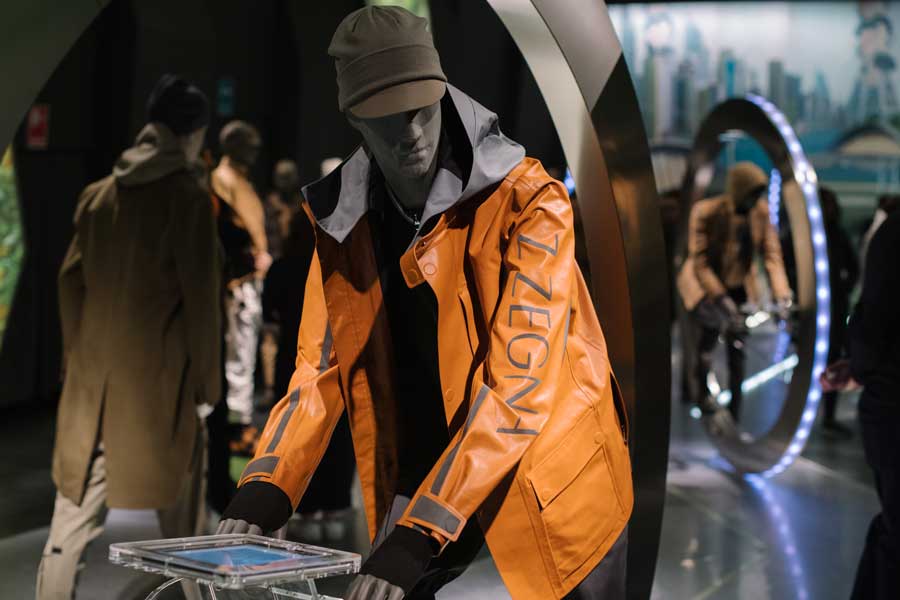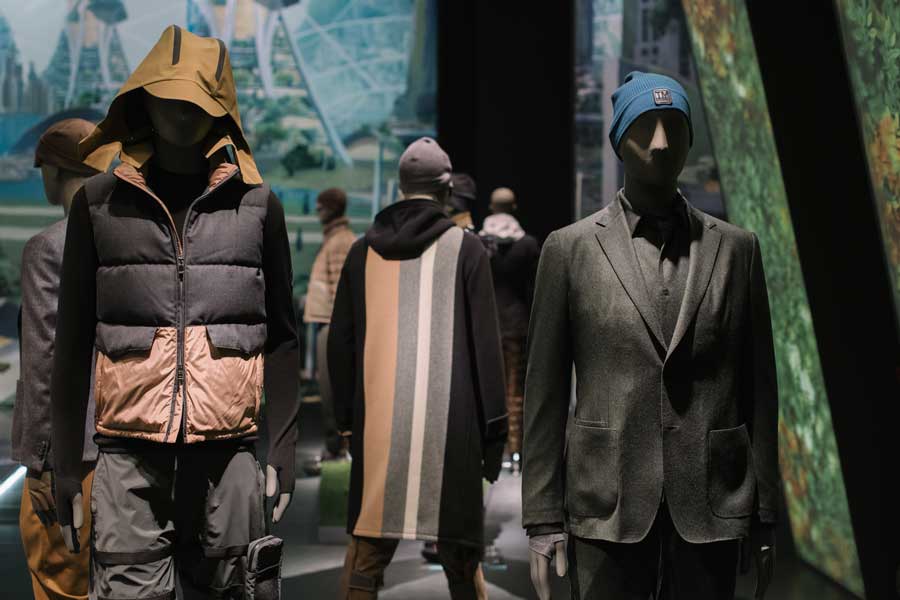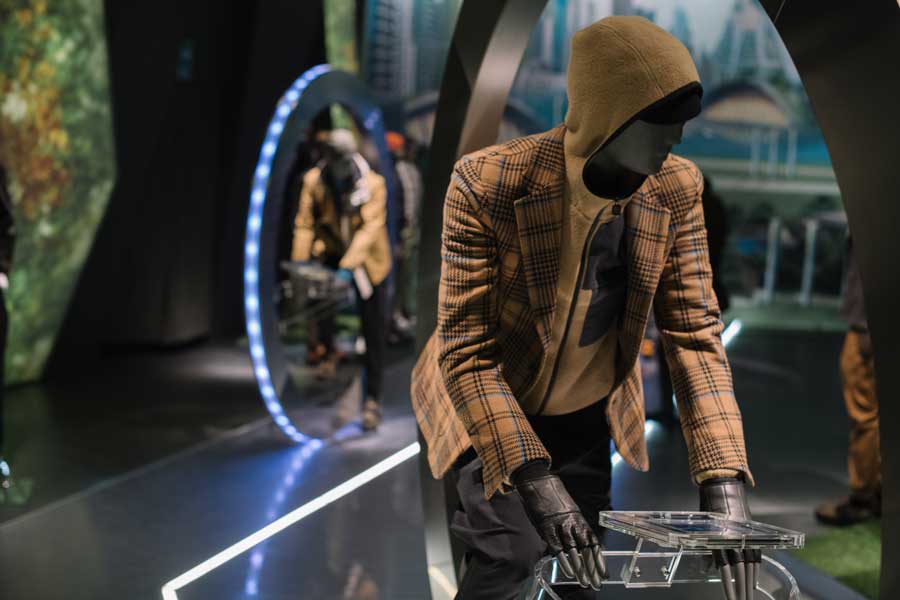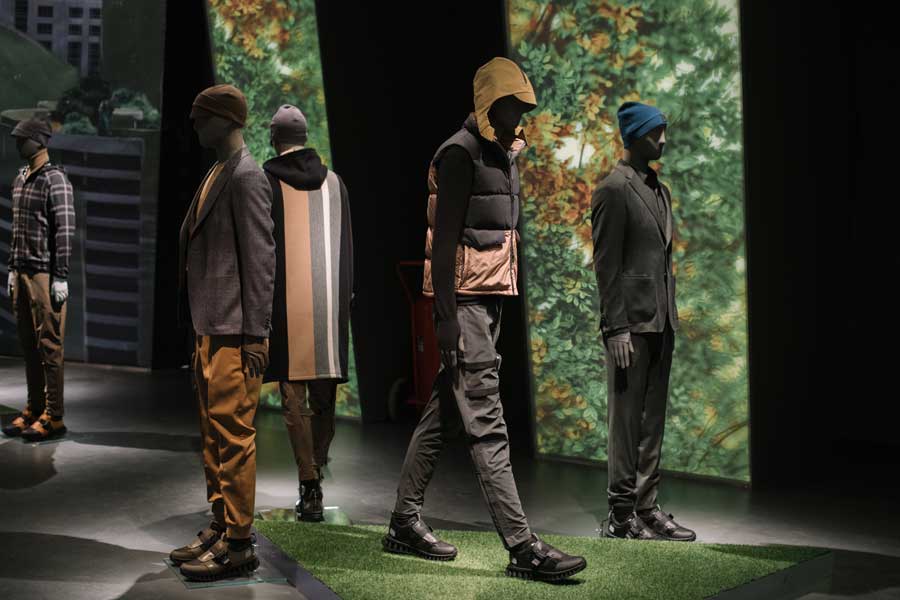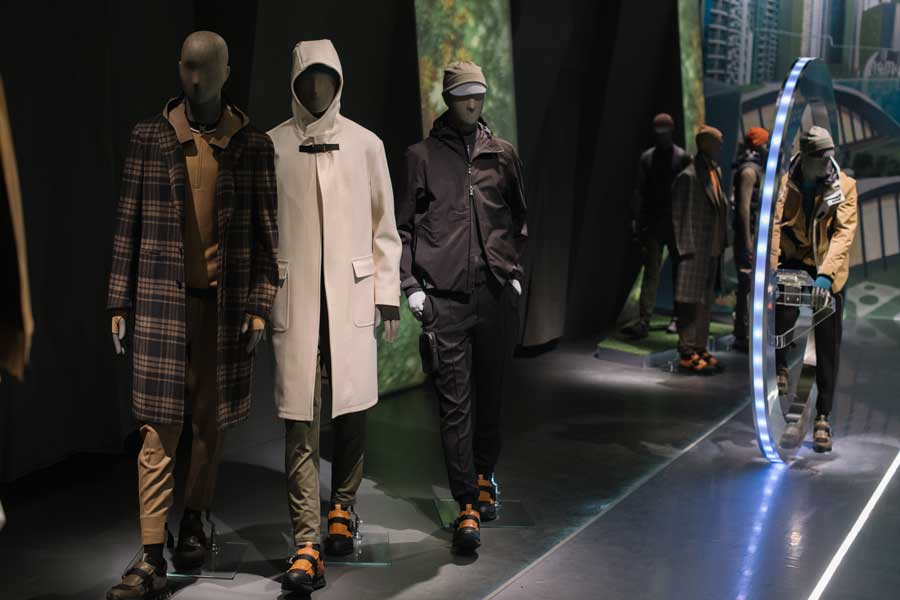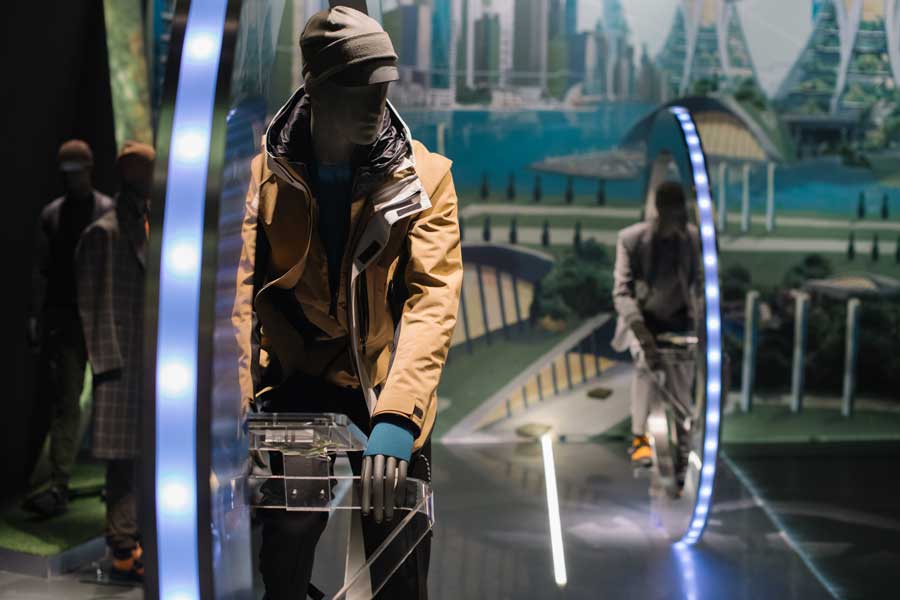 Z ZEGNA showcased ultra-cool performance wool combined with different fibres, styles and colours. Photo: Vanni Bassetti
Sease debuted last year with skiwear, yachting jackets, blazers, pants and an idealistic eco-agenda, mixing high-tech with luxury fabrics such as fine chalk stripe wools. The emphasis of the new collection remains with a focus on sustainability; the clothes smart and covetable, with Merino playing a large part. "Excitement is still sky high," said Franco Loro Piana - one of the two brothers who founded the company.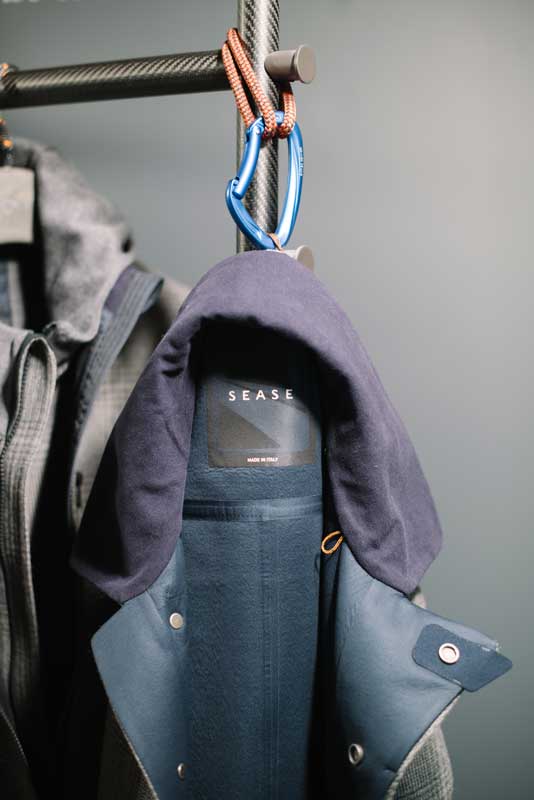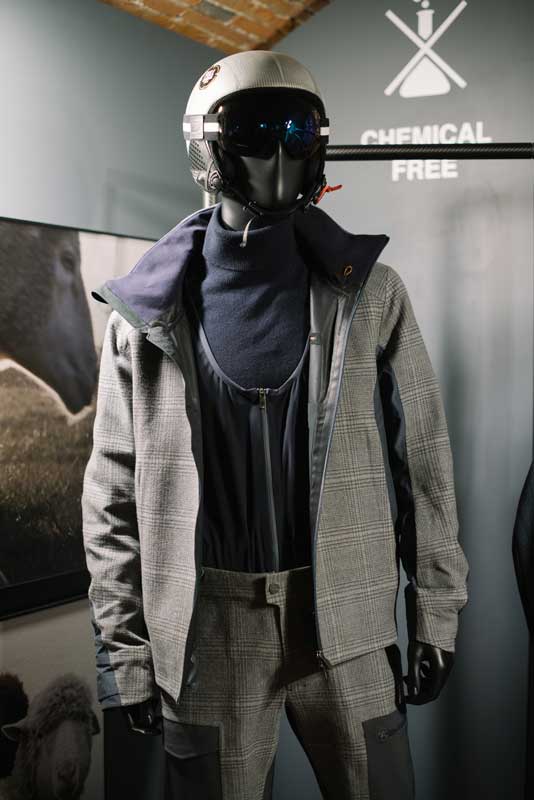 With a focus on sustainability. SEASE incorporated Merino wool into their highly technical luxury fabrics. Photo: SEASE
In the same way, Rewoolution, part of the Reda Group, took Merino to a new fashion level with slick and simply designed technical fashion bolstered with eco credentials. Taking advantage of technical developments that emphasise wool's breathability, comfort and protection, CEO Luca Martines explained that "pure Merino is at the heart of the collection".
Venerable labels displayed their heritage and were embraced as cool. Baracuta, whose history is intimately involved with the 80-year-old wool Harrington Jacket – still made in England to this day – has a cult following worldwide. Barbour, introducing Merino luggage to Pitti Uomo 95, called on the film-maker Ridley Scott for a charming look at the roots of the company with manufacturing in England dating back to 1894. Knits and outerwear designs played with colour and pattern; checks, diamonds, stripes in ginger, turquoise, blue, black and white. Drumohr, with colourful knits, suits and substantial overcoats.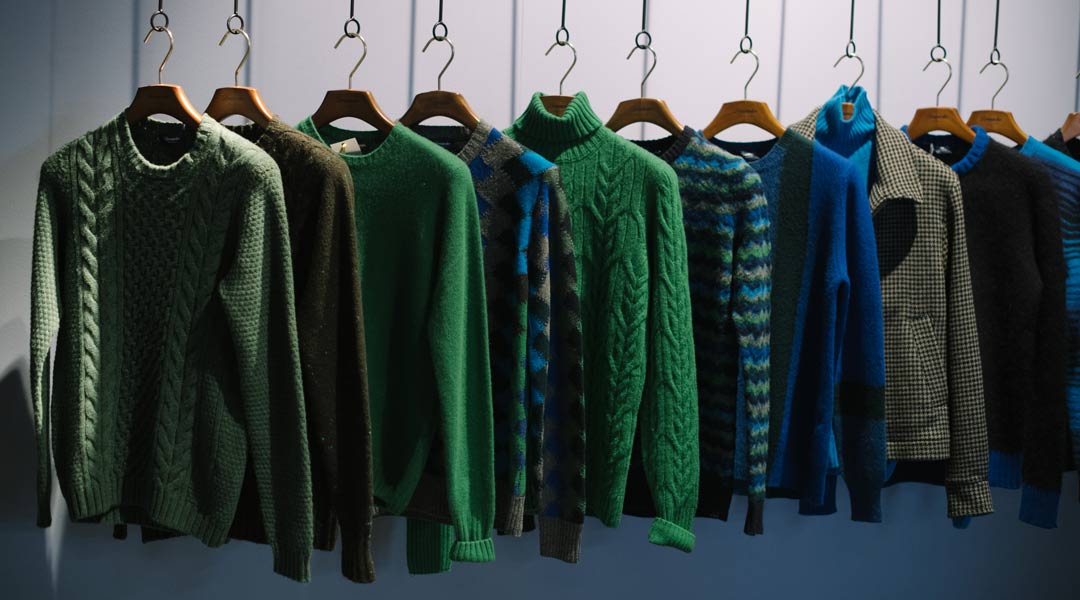 The knits and outerwear designs of Drumohr played with colour and pattern to illuminate the versatility of Merino wool. Photo: Vanni Bassetti
The contemporary designs of traditional knitters Inis Meáin are made by hand on an island in the Irish Sea, explained Creative Director Ainge de Blacam, with this season's offering including long knitted cardigan coats ¬– tried on by several US buyers. Antonio Costa, an exhibitor at Pitti Uomo's Guest Nation Portugal section, showed luxury knitwear brand Ecola, who has used Merino since 1926. Their cutting edge designs are created by an artisan workforce. In a similar vein, artisan knits by Yolanda Estevez of Knitbrary Spain were an expression of wool art with the same craft-based philosophy.
Exciting dramatic runway shows during the week added energy, intelligence and creative design to the mix. Principal among these were Aldo Maria Camillo, who has partnered with iconic menswear brands like Ermenegildo Zegna, Cerruti and Valentino, who's show gathered widespread approval, while 'red- hot' Belgian designer Glenn Martens for Y/Project, the Pitti Uomo Guest Designer making waves in Paris, staged his show in the ancient cloisters of Santa Maria Novella with unsettling music beating out in the darkness. The quirky designs of Concept Korean designers drew a young enthusiastic following.